Perez: Ocon actions cost me the win in Baku
Published 06/26/2017, 10:12 AM EDT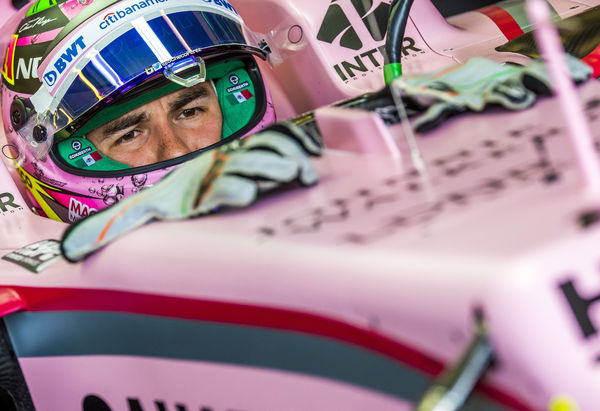 Baku was one of the craziest races ever in Formula 1. It was definitely the craziest and most action packed for 2017. We saw Ricciardo take the checkered flag from P10. We saw Bottas climb from dead last to P2. We saw Vettel have a moment of road-rage. And if that was not enough, the 'kid', Lance Stroll, got his maiden podium! Amidst all the crashes and overtakes and complaining on the team radio though, Force India created a headline early in the race when Sergio Perez and Esteban Ocon touched.
ADVERTISEMENT
Article continues below this ad
Post-race interviews saw an angry Perez blaming his team mate for being aggressive. The emotions probably boiled over when he saw the two championship contenders off the podium. Perez was running third when his team mate tried to get past on the inside of turn 2. Ocon ran wide on the exit forcing Perez to run wide too. Now running wide at Baku meant running into the wall. So Perez saw himself sandwiched between his team mate and the barriers with obvious damage to both cars. Both the drivers limped on to the pits where Perez was later retired from the race and Ocon was serviced first. Ocon drove well thereafter to finish in P6.
"We were really close to the win today with all what happened afterwards we could've won today," Perez said. "We definitely had everything to be on the first step and I was doing a great race. I'm very, very sad for my team because they've done a fantastic job working so hard and at the end of the day we are just end players. The drivers are only a part of the team and we have to work the same and we cannot be doing these types of incidents between us"
ADVERTISEMENT
Article continues below this ad
"We ruin a great opportunity for the team and frankly I feel I couldn't have done anything to avoid the accident, I was next to the wall and there was no room for me to go. It was all very aggressive, in all my career I've had teammates I've fought really hard but always with enough room not to do what happened today," he said. "I think what happened today is not acceptable for the team."
ADVERTISEMENT
Article continues below this ad
While Perez was busy bashing his team mate, Ocon did not blame him back. He claimed he never realised Perez was so close behind him at the exit. He also confirmed that the matter will be taken up internally by the team.
"Obviously it's never nice to get an incident like that in the race and in the end me and Checo lost a lot of places," Ocon said. "We'll discuss it internally and see what happened especially after turn one, and I was on the inside for turn two. We touched again. Unfortunately, it's racing, it happens sometimes but we'll see. We're annoyed for what happened really."
ADVERTISEMENT
Article continues below this ad
After a dramatic show at the Canadian GP, the two Force India drivers continue to lock horns and lose positions on the track at Baku. From the outside, it looks like there is a lack of authority inside the team. A strict hand to keep such accidents from happening. Though every team wants their drivers to be competitive against each other but not at the cost of the team's position in the constructors championship, this situation seems to be going out of hand for Force India.