Irish Open 2021: Rory McIlroy Makes Leaderboard Surge with Spectacular Round 2 Performance
Published 07/02/2021, 8:13 AM EDT

Follow Us
Rory McIlroy made a scintillating comeback in the second round in the Dubai Duty-Free Irish Open 2021 after a disappointing opening round. He remained bogey-free on Friday and scored five under 67. Even though the score looks good on paper, he missed plenty of birdie chances, especially on the front nine. But this 67 for the day will boost his confidence and will give him momentum going into the weekend.
McIlroy had a disappointing Round 1. He remained even par for the day and was way behind on the leaderboard. Rory struggled on the greens, as quite a few of his putts lipped out, which forced him to give up few birdies. But his wedge game didn't help him either, as he got only 61.11% of GIR.
ADVERTISEMENT
Article continues below this ad
Rory McIlroy made a dazzling comeback in Round 2
Coming into the second round, Rory McIlroy made an emphatic start as he teed off from back nine and opened his account with a birdie on the 10th. He was driving the ball well and found most of the fairways and GIR. Putting woes derailed McIlroy on Thursday, but he did not allow it to extend to Round 2 as well. The four-time major champion was absolutely on fire with his putter on the back nine. He remained bogey-free in the back nine with four birdies on 10, 12, 15, and 17.
The Irishman then started his front nine by making an amazing 15ft birdie putt and got down to five-under for the day and tournament. But after that, he had a quiet round with four consecutive pars. Rory had a golden chance of making a birdie at the easy par 5, fifth hole, but sadly a poor approach shot and a pathetic three-putt forced him to settle for a par.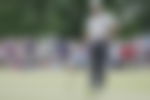 He continued with pars till the 8th hole because of some poor approach shots. But on the last hole, he had a good birdie chance with a 13ft putt. But unfortunately, he missed it and had to remain one under in the back nine and -5 for the day and tournament.
ADVERTISEMENT
Article continues below this ad
It looks like players with morning tee times have a slight advantage as most of them have been successful in scoring low in the morning than in the afternoon. The primary requirement of the course is accuracy, as it is a second or a third shot course. The greens are shallow and have undulations making it difficult for players to putt. So the approach shot becomes imperative to make birdies.
The roughs aren't diabolic but are thick enough to create a flyer lie. So avoiding the rough as much as possible should be the focus of every player. Meanwhile, McIlroy, at the end of round one, was seen grinding on the range. And whatever thing he worked on at the practice range seems to have worked for him, at least in the back nine.
ADVERTISEMENT
Article continues below this ad
The projected cut is currently at -2, but it may go up to -3 maximum. So it is crystal clear that Rory McIlroy will qualify for the weekend, thanks to his extraordinary back nine in Round 2. But he isn't in contention as of now and needs to score as low as possible on Saturday.