Lee Westwood on the Verge of Setting an Unwanted Record at US Open 2021
Published 06/17/2021, 6:30 PM EDT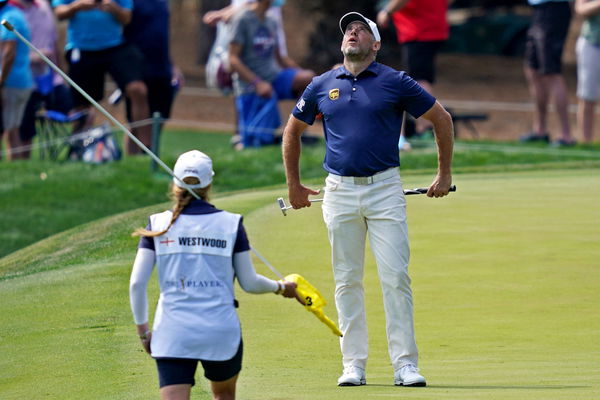 ---
---
The major championships in golf have always attracted fans. For the players winning a major tournament is the ultimate dream, but one thing every golfer wants to stay away from is any poor record in a major championship. One such poor start is hanging over Lee Westwood, the newly-wed English golfer. 
ADVERTISEMENT
Article continues below this ad
Lee Westwood on course to set an unwanted record
Lee Westwood is on the verge of creating an unwanted record for himself at the US Open 2021. The 48-year-old golfer has been a part of 86 major tournaments so far but hasn't won a single major championship yet. The British golfer could tie with Jay Haas for most majors played (87) without a win. 
ADVERTISEMENT
Article continues below this ad
But maybe 87th time he may become lucky as his caddie has become his bride."Well, this week's going to be new. It's going to be husband and wife, so it might change. She might kind of give me the elbow a bit more often, but it's a very relaxed relationship anyway. We just enjoy ourselves, trying to have a good time out there," quoted Westwood in the press conference when asked if his wife could be the lucky charm.
The closest he has ever been to win a major tournament was in the 2008 US Open at Torrey Pines. Westwood was just a stroke away from joining the famous Tiger Woods vs Rocco Mediate playoff, which Tiger ended up winning. Now that the US Open has returned to Torrey Pines, he will have those excellent performances from 2008 in mind. 
ADVERTISEMENT
Article continues below this ad
But Westwood's recent form doesn't seem to be in his favor. He has missed the cut at The Masters and finished T71 at the PGA Championship. If you look at his game this season, apart from putting, there isn't much to discuss. His iron and wedge game is in shambles, and if he wants to stay away from the unwanted record, he needs to up his iron game at the US Open 2021. 
But one thing which Lee Westwood has is tons of experience, and very few players have it. So this could prove as an X factor at Torrey Pines, provided he enhances his game to a certain level. 
ADVERTISEMENT
Article continues below this ad