Bryson DeChambeau is No Longer Talking to the Media – What Caused the Rift?
Published 08/21/2021, 1:16 PM EDT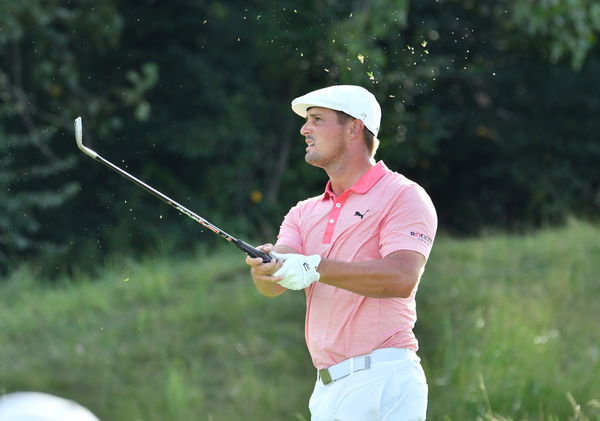 ---
---
As we all know, Bryson DeChambeau and controversy go hand in hand. However, this time Bryson is inviting criticism himself, and it has nothing to do with any other player. Bryson DeChambeau has stopped talking to the media and is facing the heat from the fans and also the golf reporters.
ADVERTISEMENT
Article continues below this ad
Bryson last spoke with the media before the WGC-FedEx St. Jude Invitational in the first week of August. But since the controversy that happened that day, DeChambeau stopped attending and addressing the media. 
Why has Bryson DeChambeau abandoned talking to the media?
ADVERTISEMENT
Article continues below this ad
During the pre-game press conference, WGC-FedEx St. Jude Invitational Bryson DeChambeau was asked about his vaccination status. And Bryson gave an absurd answer, saying he is young enough and healthy and he doesn't need a vaccine. Moreover, he also said he would give it to the people who need it, like the older folks. 
This response created a huge backlash. The issue here is that Bryson seems to be suggesting that if he gets the vaccine, someone else will miss out on it. And everyone, including the media, pointed out his mistake, probably in a slightly harsh manner. And this is what Bryson didn't like and blamed the media for their reports. The American professional golfer thinks the media has misquoted or misrepresented what he said about vaccines.
ADVERTISEMENT
Article continues below this ad
And since then, Bryson has been blowing off reporters because of something that he said. Moreover, Bryson believes he gets poor treatment, but writers just reported his exact words. How can this be their fault?
Meanwhile, from DeChambeau's perspective, he has been getting grilled by the media. Firstly, because of the feud with Brooks Koepka, then the "Fore" controversy, and finally now the vaccine thing. Additionally, there have been plenty of small controversies as well. So, to be fair to him, he probably has got frustrated. 
ADVERTISEMENT
Article continues below this ad
But in saying so, one cannot deny the fact that few of his recent controversies have been created by him and the media has nothing to do with it. So, even though people want to back DeChambeau, as he is not exactly the bad guy that the world projects, Bryson alone is making himself incredibly difficult to root for.