Five Unbreakable Golf Records Held By Tiger Woods
Published 08/12/2021, 2:04 PM EDT ---
---
Tiger Woods is probably the best golf player of all time. But he is currently recovering from a solo car accident. And hopefully, Tiger will make a comeback and play golf once again. Woods last played professional golf in November 2020 at the Masters, where he finished T38. But since then, he hasn't been able to get on the course, first due to a back injury and then the horrific car crash. 
ADVERTISEMENT
Article continues below this ad
The fifteen-time major championship winner has created and broken many records in his career so far. And few of the records are unfathomable, which other players can't even dream of breaking. So let us have a look at the top 5 records from Tiger Woods which are next to impossible to break.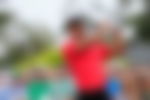 Top 5 unbreakable records from Tiger Woods 
ADVERTISEMENT
Article continues below this ad
1. 82 PGA Tour wins – Tiger Woods has the record for the number of PGA Tour victories. He is currently tied with Sam Snead for the most wins. But Tiger was nine years younger than Sam when he achieved this feat. The next player is Jack Nicklaus at 73, who has already retired, while the closest active player is Phil Mickelson with 45 wins. 
2. 18 WGC Championship wins – Tiger Woods has won record 18 WGC events in his career so far. His performance in these has been exceptional. The only player close to him currently is Dustin Johnson with six wins, which means Tiger still has three times more titles than the second-placed.
ADVERTISEMENT
Article continues below this ad
3. 142 consecutive cuts made – Tiger holds the PGA Tour record for most consecutive cuts made. He made 142 cuts in succession from 1998 to 2005. Tiger was at a peak in his career during these six years. Moreover, there is no current player who even comes close to this record. However, Byron Nelson is in second place with 113 consecutive cuts. 
4. Career grand slam at age 24 – Woods completed the career grand slam at the age of 24. Not only is he the youngest player to win a slam, but only five other players in the last 50 years have won a major at age 24 or younger. 
ADVERTISEMENT
Article continues below this ad
5. 683 weeks at world no.1 – Tiger holds the record for a total of 683 weeks at the top position in his career so far. And 683 weeks roughly equate to 13 years, which is insane! Meanwhile, the second-placed Greg Norman was a world no.1 for 331 weeks, and it is not even close to Tiger's 683. Additionally, there are two current players on the top 5 list, Dustin Johnson and Rory McIlroy. However, they are way behind as Dustin with 135 while Rory with 106 weeks.