'Still Laugh About It': PGA Tour Golfer Reveals His Favorite Michael Jordan Story
Published 03/29/2021, 6:00 AM EDT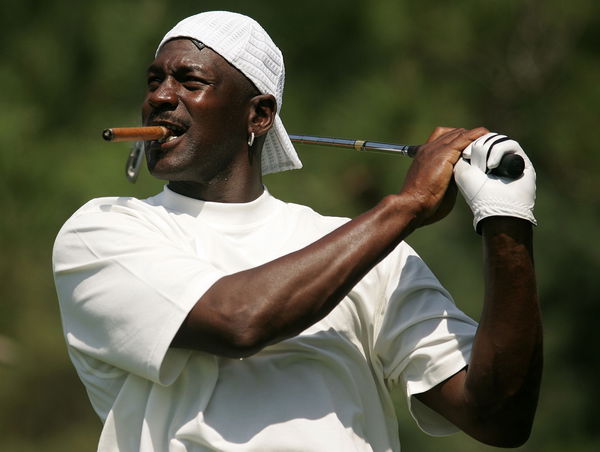 ---
---
Michael Jordan is an intimidating personality. MJ's terrorizing reign in the NBA made his opponents feel that way, but that aura still revolves around Jordan to this day. Ask professional golfer Harold Varner III, and he would tell you a classic tale about how MJ intimidated one of his friends during a round of golf! 
ADVERTISEMENT
Article continues below this ad
You wouldn't have to reach out to Varner for that because the story unravels in this article. It is no secret that Michael Jordan loves golf. The Chicago Bulls legend never misses out on playing 18 holes in a day and that should tell how passionate he is about the sport. 
Since Varner is a 'Jordan Brand' athlete, he has the privilege of visiting MJ's golf course as he pleases. While he is not too awe-struck about teeing off with the NBA legend, the same can't be said about others!
ADVERTISEMENT
Article continues below this ad
Read Also: 'Hints of MJ Everywhere': Professional Golfer Describes Michael Jordan's Luxurious Golf Course
Michael Jordan intimidates his golf opponents with trash-talk
Michael Jordan is a master of trash-talking. He used it to much effect while playing in the NBA and somethings just don't get out of the system. Old habits die hard. MJ still talks trash while on the golf course to get his competitive juices flowing. 
When Harold Varner and his friend once went to Jordan's golf course for lunch, they were invited to a quick round by 'His Airness'. Of course, the invitation had to be accepted, and little did Varner know then that it would become one of his favorite Jordan memories ever. 
"Really not about me at all, but we're playing golf, me and my best friend. We went to go have lunch at [MJ's] course, and we have our standard game with MJ, no big deal. But my boy's not playing anything," Varner told FOX 46 Charlotte in a recent interview. 
ADVERTISEMENT
Article continues below this ad
"We get on the second hole and MJ's like, 'We're not gonna have free rolls out here,' talking to my boy. I didn't know he was that nervous but we get down the fairway and he has 70 yards. He hits it, I bet you, he hits it 50, just chunks it, just so nervous and I was like, 'Dude, you alright?' he's like dude 'I'm playing with the GOAT. What do you mean?"
"That's my best MJ story I still laugh about it," Varner concluded on air. While the 30-year-old golfer mentioned that he wasn't intimated by Jordan, his friend was absolutely trembling when playing with the six-time NBA champion. 
ADVERTISEMENT
Article continues below this ad
Read Also: Michael Jordan and His Love Affair with Golf: Three of the Greatest MJ Stories Between 18 Holes
Trending Stories