'Hard to Win Out Here' – Xander Schauffele Comments on Augusta National's Challenging Layout
Published 04/12/2021, 12:30 PM EDT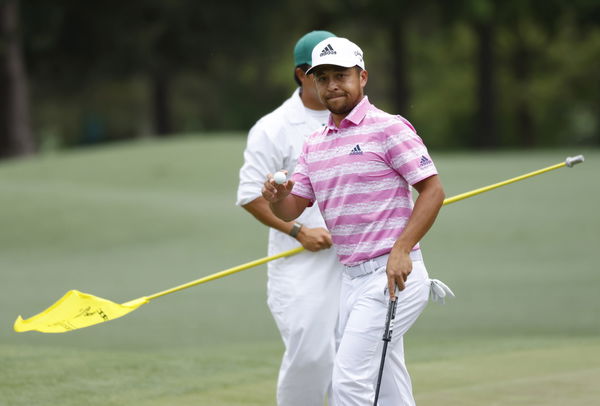 Xander Schauffele created a massive wave with his final round heroics at the 2021 Masters. Schauffele was four strokes behind the 54-hole leader Hideki Matsuyama when he teed off on Sunday and did not stop putting the pressure on the Japanese player. However, one wrong stroke cost him dearly and the 27-year-old later lamented about it. 
Schauffele at one point stood just two strokes within the lead and fans were really hyped that he would catch Matsuyama. However, disaster struck at the par-3 16th as Schauffele made a triple bogey for the first time in his major career. 
To be precise, Xander Schauffele had gone 1,042 holes in major tournaments without making triple-bogey. That was before he played the 16th hole during the crucial final round of the 2021 Masters. The triple bogey also caused a drastic drop in Schauffele's prize money as well!
ADVERTISEMENT
Article continues below this ad
By my calculations, Xander Schauffele's triple bogey on No. 16 cost him $575,000 — the difference between solo second and T3.

Quite the costly mistake😳 pic.twitter.com/7vqmH225W4

— Zephyr Melton (@zephyrmelton) April 12, 2021
Xander Schauffele reasons why he bottled his chance at the 2021 Masters
Xander Schauffele has been coming to the Masters since 2018. Hence, he's got quite an expertise as to how one should counter the challenges at the Augusta National. But Schauffele learned one thing during the 2021 Masters: No player can say he's mastered the Augusta National. 
"It's just hard. It's hard to win out here. Especially at this tournament," Schauffele commented on his third-place finish. "I think I'll throw 16 in the memory bank. I think a lot of great shots into 16 are left to right," he added about the moment that cost him the title. 
ADVERTISEMENT
Article continues below this ad
Schauffele mentioned that he's generally good with the angle he went about with the 16th, but the 8-iron somehow failed and cause a disaster. "Hopefully, I keep coming back here for years to come, and the goal is to win one day," Schauffele said. 
After making the embarrassing triple bogey, Xander Schauffele held on and finished the remaining two holes at par. However, Matsuyama had raced on with the lead and sealed his place as the champion by then.
ADVERTISEMENT
Article continues below this ad
It was indeed a tough loss to take in for Xander Schauffele. While he'd be proud of achieving a Top 5 finish, the squandered opportunity will be lingering on his mind for a long-time to come. 
Read Also: Jon Rahm Sits Right Behind Tiger Woods in the Masters Record Books