Barracuda Championship 2021: Complete Breakdown of the Prize Money From Winner to Last Place
Published 08/07/2021, 11:30 AM EDT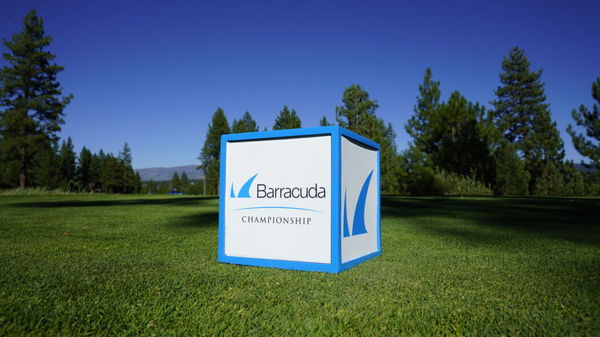 ---
---
The ongoing Barracuda Championship at Tahoe Mountain Club's Old Greenwood is the only PGA Tour event currently following the modified Stableford scoring system. Emiliano Grillo is currently leading the scoreboard, having managed an early eagle in the 17-point round. Per the points system, Grillo finished the two rounds with 29 points.
ADVERTISEMENT
Article continues below this ad
Per the format, one player is awarded eight points for an albatross, five for an eagle, and two for a birdie. Zero points are given for par. For a bogey, a point is redacted. If it's a double bogey or more, three points are taken away.
ADVERTISEMENT
Article continues below this ad

"Left a lot of putts short today," Grillo said about his performance. "It could have been really good out there. Hit the ball well. Kept the ball in the fairway. Gave myself chances for eagles on the par 5s, which is kind of the key for this format."
Additionally, Joel Dahmen – who finished first in Round 1 – is currently placed third.
Now, the Barracuda Championship awards  $3.5 million in total prize money. Like most tournaments, the prize pool will be divided amongst the participants.
Winner's payout at the Barracuda Championship 2021
ADVERTISEMENT
Article continues below this ad
| | |
| --- | --- |
| POSITION | PAYOUT |
| Winner | $630,000 |
| Runner-up |  $381,500 |
| Third place | $241,500 |
| Fourth place |  $171,500 |
| Fifth place | $143,500 |
The winner will be taking home the maximum money from the total prize pool. If Grillo does win the Barracuda Championship, he will take home $630,000. The second-placed golfer will earn $381,500, while a third-place finish will fetch a golfer $241,500, and so on. Here's a look at the top five prizes awarded at the event.
Complete breakdown of the $3.5 million prize money
ADVERTISEMENT
Article continues below this ad
1. $630,000
2. $381,500
3. $241,500
4. $171,500
5. $143,500
6. $126,875
7. $118,125
8. $109,375
9. $102,375
10. $95,375
11. $88,375
12. $81,375
13. $74,375
14. $67,375
15. $63,875
16. $60,375
17. $56,875
18. $53,375
19. $49,875
20. $46,375
21. $42,875
22. $39,375
23. $36,575
24. $33,775
25. $30,975
26. $28,175
27. $27,125
28. $26,075
29. $25,025
30. $23,975
31. $22,925
32. $21,875
33. $20,825
34. $19,950
35. $19,075
36. $18,200
37. $17,325
38. $16,625
39. $15,925
40. $15,225
41. $14,525
42. $13,825
43. $13,125
44. $12,425
45. $11,725
46. $11,025
47. $10,325
48. $9,765
49. $9,275
50. $8,995
51. $8,785
52. $8,575
53. $8,435
54. $8,295
55. $8,225
56. $8,155
57. $8,085
58. $8,015
59. $7,945
60. $7,875
61. $7,805
62. $7,735
63. $7,665
64. $7,595
65. $7,525