'Basically, the Happiest Animal in the World Is a Goldfish' – Jon Rahm
Published 08/27/2021, 6:00 AM EDT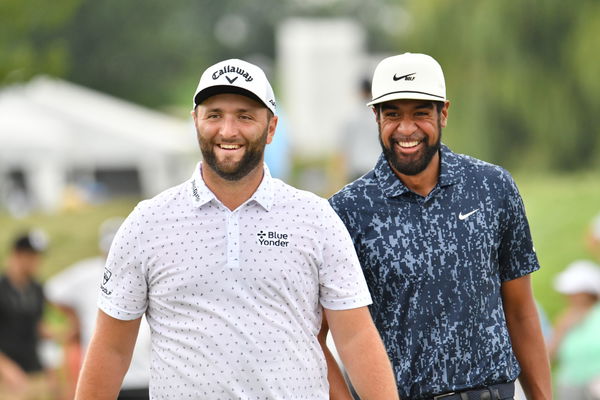 ---
---
Jon Rahm is currently engaging in his title defense at the BMW Championship. Rahm had a chance to enter this tournament as The Northern Trust champion, but he couldn't close out the event with effect. However, a golfer should never allow past results to affect his current game and Rahm has identified the perfect animal he should embody to keep moving ahead without regretting the past.
ADVERTISEMENT
Article continues below this ad
Golf is such an unpredictable sport. A golfer who played poorly all of last week can bounce back and win a tournament by five strokes the following week. Hence, it is the golfer's prerogative to keep moving ahead irrespective of the result. Trusting the process is more important than any other belief. 
Jon Rahm is a perfect example of that. He was expected to lift The Northern Trust trophy last week but failed to convert in the final round. However, he let none of that affect him this weekend route to an opening-round 8-under-64 at the BMW Championship. 
ADVERTISEMENT
Article continues below this ad
Rahm was asked the secret to such a sublime mindset, to which he had an astonishing response: "I'm gonna say for all those ted Lasso fans out there. Be a goldfish."
Rahm then gave a brief explanation why:
"So it's basically the happiest animal in the world is a goldfish. You know why? It's got 10-second memory. So yeah played great golf last week just a couple bad swings down the stretch and that's important thing to remember," the Spaniard mentioned. 
Can Jon Rahm repeat his success at the BMW Championship? 
Jon Rahm reigned supreme at the 2020 BMW Championship in a thrilling playoff. It was everything that golf fans expected. Dustin Johnson made a 45-foot birdie on the final hole to force a playoff with Rahm, and the Spaniard took it one step further. 
ADVERTISEMENT
Article continues below this ad
Rahm drained a 66-foot birdie putt in the first playoff hole which was probably one of the best moments from last season. The Spaniard went off in jubilation, and it proved that he is built for such moments. 
Coming into the BMW Championship 2021, Jon Rahm is considered a mighty favorite. However, there are other challengers who threaten to take this throne. Rahm is also the reigning U.S. Open Champion and has a lot to offer when it comes to tournaments of a greater magnitude.
ADVERTISEMENT
Article continues below this ad
So one can always expect to see Jon Rahm put up a fight. He's currently taken a share of the lead after Round 1 and he'll fight to stay in contention till the completion of 72-holes.