Bizarre: Si Woo Kim's Cliffhanging Putt Takes a Minute to Drop at RBC Heritage 2021
Published 04/17/2021, 1:20 PM EDT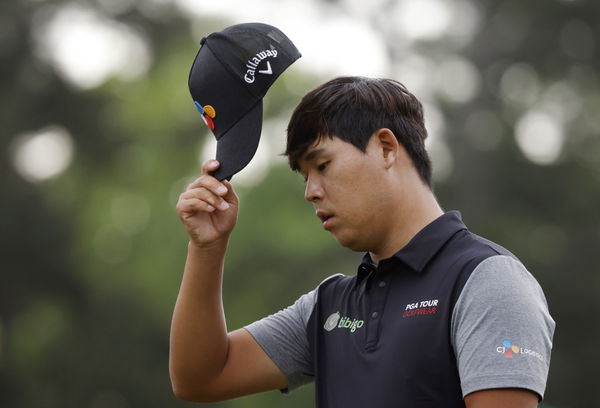 ---
---
Si Woo Kim encountered the most bizarre moment of his career at RBC Heritage 2021. The South Korean began Round 3 at Harbour Town with a bogey and a birdie on the first and second holes respectively but faced agony in the par-4 third. To put it in simple words, Si Woo Kim was robbed of a birdie by unforeseen causes!
ADVERTISEMENT
Article continues below this ad
Si Woo Kim watched in astonishment as his ball refused to enter the hole
Kim stepped onto the 469-yard third hole and made pretty good work of the tee-shot. It was a confident stroke that landed on the fairway and set him up for a good second shot. The 25-year-old hit his second shot on the rough, which forced him to attempt for a downhill birdie 10 yards away from the hole. 
ADVERTISEMENT
Article continues below this ad
Si Woo Kim nailed the birdie attempt and sent the ball rolling on a leftward line to the hole. The ball rolled down on the green on a really good line, but it miraculously stopped just before the hole and hung on the edge when it was supposed to go in! 
The ball really just hung onto the edge of the hole and would not go in. Only after a minute's wait did the ball land into the hole. This was a birdie attempt from Si Woo Kim but a stroke was added to his scorecard as a penalty for the hole. 
This rule would be frustrating to Kim. Since the ball had stayed on the edge for more than 10 seconds before rolling in, the organizers at RBC Heritage had to abide by the rule book and penalize him by adding one more stroke. So a birdie attempt eventually ended into a par by no fault of the golfer!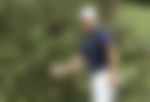 WATCH – Shane Lowry Falls Inches Short of an Ace at RBC Heritage 2021
The South Korean has previously displayed his aggression on the golf course
Of course, the ball stuck onto the edge for over a minute would've frustrated Kim. However, the South Korean did not vent his anger in front of the camera, like he did at the 2021 Masters.
ADVERTISEMENT
Article continues below this ad
Si Woo Kim wildly destroyed his putter during Round 2 at Augusta after taking three-puts to complete the 14th hole. This forced the 25-year-old to use his 3-wood for putts for the remainder of the round. 
This is just a simple reminder that golfers can lose their cool on the course. As for the above-mentioned incident at RBC Heritage, Si Woo Kim just let it go with a laugh because he was in no way in control of what transpired. 
ADVERTISEMENT
Article continues below this ad
Read Also: Stewart Cink Shatters Tournament Records After Taking 36-Hole Lead at RBC Heritage 2021
Trending Stories