Brooks Koepka vs Dave Portnoy: Date, Where to Watch Live, and Prize Money
Published 08/25/2021, 6:00 AM EDT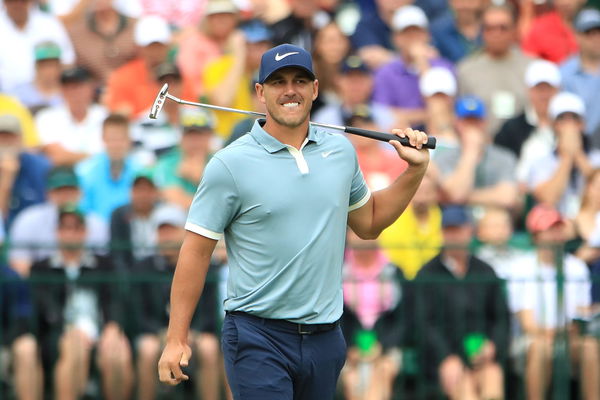 ---
---
Brooks Koepka is a four-time major winner in professional golf. Koepka is one of the most renowned golfers out there and he is one of the most competitive ones too. So doesn't it seem a little out of place if we tell you that Koepka is going to play a match against an amateur golfer and the winner gets huge prize money? It definitely does, but there's a catch to it. 
ADVERTISEMENT
Article continues below this ad
Right now, all that the golf community is excited about is the FedExCup Playoffs. However, shortly after the season-ending Tour Championship concludes, Brooks Koepka would once again have to gear up for yet another golf game. 
But it wouldn't be against a field of professional golfers. Instead, he'll be taking on Barstool Sports' founder Dave Portnoy in a charity match. While the event is completely for a good cause, that has not stopped these two personalities from exchanging trash talk. 
ADVERTISEMENT
Article continues below this ad
When will Brooks Koepka and Dave Portnoy play their match? 
Brooks Koepka has his hands full at the moment. He's competing in the BMW Championship from August 26-29 and will qualify for the subsequent Tour Championship (September 2-5) as well. 
Hence, Koepka has picked September 7th as the date for his match against Dave Portnoy. The date is fixed, but the venue is yet to be locked in. 
Per a recent update, it has been confirmed that the match has received a streaming platform. Dave Portnoy mentioned that the entire game between him and Koepka will be live-streamed on his Instagram channel and Barstool Sports' YouTube page. 
Furthermore, both golfers have fixed their respective caddies too. Pardon My Take hosts Big Cat and PFT Commenter will carry the bag for Brooks Koepka, while Portnoy will have Frankie Borelli, a member of Barstool's ForePlay podcast as his bagman.
ADVERTISEMENT
Article continues below this ad
Everything is ready and the golfers are locked in. All the trash talk over the weeks has only raised the expectations for this event. Both have them have agreed to a $250,000 bet, and the prize money will go to a charity picked by the winner. 
Of course, there is one major catch in all this. Brooks Koepka is a pro and it would just be unfair for him to take on Portnoy in a normal match. Hence, Koepka will be playing the entire match left-handed and he hopes to beat Portnoy, who's a natural southpaw, that way! 
ADVERTISEMENT
Article continues below this ad