'Could Really Help My PIP' – Justin Thomas and Max Homa Exchange Hilarious Banter on Twitter
Published 07/18/2021, 6:35 AM EDT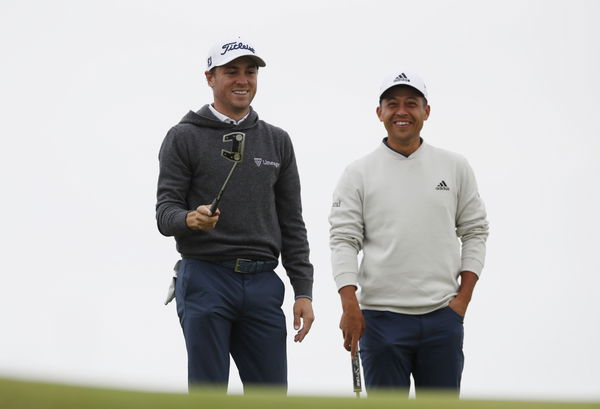 ---
---
Max Homa is undoubtedly the Twitter god and he recently posted a hilarious tweet on the eve of being paired with Justin Thomas at The Open Championship 2021. Homa and Thomas both qualified after the 36-hole cut, and their leaderboard positions paired the duo together for the final round. 
ADVERTISEMENT
Article continues below this ad
Justin Thomas and Max Homa remained even-par through 54-holes at the 149th Open Championship. As the final round tee times were released, Max Homa was pumped upon finding out that he'd been paired with Justin Thomas! 
"Piggy backing off JT's fame could really help my PIP tomorrow. Hopefully it also helps my #golf  @JustinThomas34," Homa posted on Twitter. 
ADVERTISEMENT
Article continues below this ad
While that tweet was enough to trigger a wave of reactions from the golf community, Justin Thomas raised the bar with a terrific reply. Thomas dug deep and shared a picture of a young Max Homa celebrating at a golf tournament. 
Hilarious! 
Max Homa wins the war with a massive Justin Thomas throwback! 
Justin Thomas was certainly witty with his reply. The photo drew a massive fan response on Twitter, but Max Homa swiftly sabotaged Thomas with a seemingly embarrassing photo of the 2021 Players Championship winner. 
The picture does look real but at the same time photoshopped! While we can't confirm JT's picture is altered on not, it did declare Homa's victory in the online banter exchange. It is just terrific to see these two golfers getting along so well, despite being professional rivals. 
Well, there's no rivalry as such, Max Homa and Justin Thomas certainly aren't teammates on the golf course. They're both chasing individual success, and the PIP Fund is instrumental in creating such banter among PGA tour pros. 
ADVERTISEMENT
Article continues below this ad
One might even wonder if that's the reason Bryson DeChambeau and Brooks Koepka are constantly going at it. The $40 million bonus pool is definitely intriguing and everyone is eager to see who'll make the Top 10 at the end of the year. 
As for Max Homa and Justin Thomas, they're not in cruise control at The Open Championship 2021, but have made it to the weekend. The final round will see Louis Oosthuizen, Collin Morikawa, and Jordan Spieth as the major contenders entering Sunday. 
ADVERTISEMENT
Article continues below this ad