'Develop Problems' – Acclaimed Surgeon Predicts Grim Future for Bryson Dechambeau
Published 04/24/2021, 11:30 AM EDT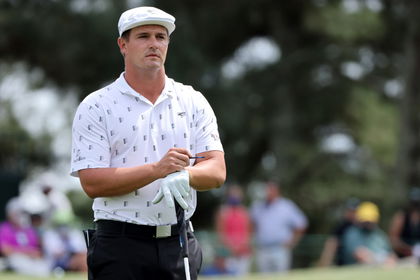 ---
---
Bryson DeChambeau is often regarded as the modern savior of golf. He burst onto the scene in 2016 and began stealing everyone's thunder with his powerful swings and unorthodox stroke-making. DeChambeau is following a specific diet to keep himself fit, but an acclaimed surgeon feels the eight-time PGA Tour winner will inevitably suffer an injury setback in his career.
ADVERTISEMENT
Article continues below this ad
Once athletes make the decision to turn pro, they would be aware of the plethora of challenges that would be coming their way. As for golf, there are hardly any tour pros who can claim that they've stayed injury-free for a majority of their careers. 
The sport demands power from both your upper body and lower body and the swings place tremendous stress on the back. Tiger Woods can be cited as an example to state the fact that even the best in the business suffer from injuries that deter their career. 
ADVERTISEMENT
Article continues below this ad
Bryson DeChambeau returned to the PGA Tour 2020 after having added 30 pounds of weight. He looked bulkier than ever, yet stronger. But this raised a major cause for concern. Is DeChambeau at risk of sustaining a major injury? 
Bryson DeChambeau is touted to suffer an injury soon in his career
Bryson DeChambeau has a captivating golf swing. He does not care much about the orthodox routine and has devised a movement that stretches his drives to the maximum limit. But at times, it seems like 'The Scientist' is overdoing his swings and hurting his body. 
A lot of people think this way as well. When acclaimed Orthopedic surgeon Field Scovell appeared on a recent episode of 'The Cutting Edge Podcast,' he mentioned the same. 
"This guy's like 'All right, I'm gonna gain weight and I'm gonna swing as hard as I can and I'm gonna just increase his swing speed so his muscles and his anatomy allows him to do that," Scovell said about DeChambeau.
"But is it going to hold up, and he's going to develop problems at some point. But for him, you got to give him the credit. He's a pretty good golfer beforehand, winning tournaments beforehand, but he said I'm gonna do something different. And he's getting results. Is it worth it, I don't know," he added. 
ADVERTISEMENT
Article continues below this ad
The podcast hosts affirmed the surgeon's statements as well. A golf swing generates so much force in a human's body and to keep doing it on a regular basis only increases the risk of injuries. 
Of course, every golfer is vulnerable to injuries. But it's just that Bryson DeChambeau is seeking more power in his game that he is willing to go to the limits. Will it backfire against him? 
ADVERTISEMENT
Article continues below this ad
Read Also: 'Bit of Envy' – How PGA Tour Players Reacted to the New Player Impact Program