'Get the F—Out' – Bryson DeChambeau Lost His Temper With a Heckling Patron at BMW Championship 2021
Published 08/30/2021, 8:44 AM EDT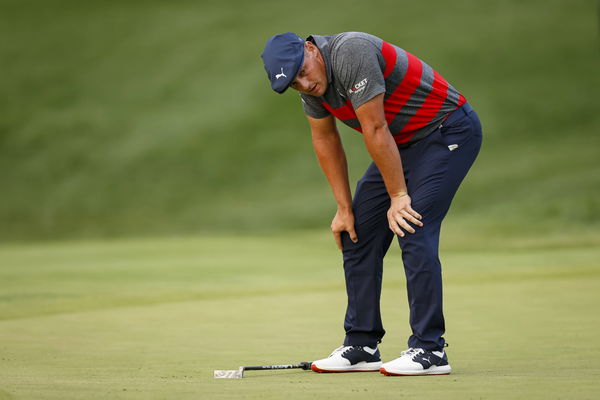 ---
---
Bryson DeChambeau came incredibly close to winning for the third time this season. The 27-year-old played four rounds of fantastic golf at the BMW Championship but lost his rhythm in the playoff. Following his defeat to Patrick Cantlay in the playoff, a dejected DeChambeau lost his temper at the fan who taunted him using Brooks Koepka's name. 
ADVERTISEMENT
Article continues below this ad
Bryson DeChambeau was subject to all sorts of heckling at the BMW Championship 2021. While it's nothing uncommon, sometimes fans tend to cross the line with their heckling. There's only so much that a golfer can take in while trying to win a tournament. 
Bryson DeChambeau raged at a heckler 
ADVERTISEMENT
Article continues below this ad
All week, Bryson DeChambeau tried to stay as calm as the sea with his emotions. He did not want to get back at the fans who were trying to disrupt his game. They were standing on the sidelines and tried to decide the outcome of the tournament. But DeChambeau didn't let them. 
However, it all boiled up to a point where he had to vent it out. After losing to Cantlay in the sixth playoff hole, DeChambeau responded to a fan who apparently yelled "Great job, Brooksie!" as he was walking towards the clubhouse. 
Bryson stopped after hearing this, took a brief pause, and started walking towards the direction where the voice came from. "You know what? Get the f— out!" DeChambeau yelled at the patron who heckled him.
Bryson DeChambeau raged at the fan when confronting him. It had got to a level where all of it seemed unsportsmanlike. The man had just toiled his heart out playing six playoff holes and deserved some respect.
Instead, some fans continued with the heckling. This tormented the mind of DeChambeau, who felt the need to give it back at one point. And he did. 
Was DeChambeau wrong for confronting the fan?
ADVERTISEMENT
Article continues below this ad
Absolutely not. Ever since the BMW Championship began, patrons from the sidelines had been trying to mess with him. They failed to do so as DeChambeau played beautifully through 72-holes. 
It is only right if the athletes give fans a taste of their own medicine. Playing under pressure is never easy, and the bar is always higher in DeChambeau's case. One can simply support DeChambeau by stating that he is "human" too.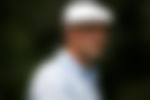 Of course, he is. DeChambeau always tries to absorb the external noise and let his game do the talking, but there are exceptions. And when he does give it back to a fan, it's only right that he does. 
ADVERTISEMENT
Article continues below this ad