Greg Norman Has a Patriotic Solution to End the Feud Between Brooks Koepka and Bryson DeChambeau
Published 08/25/2021, 12:33 PM EDT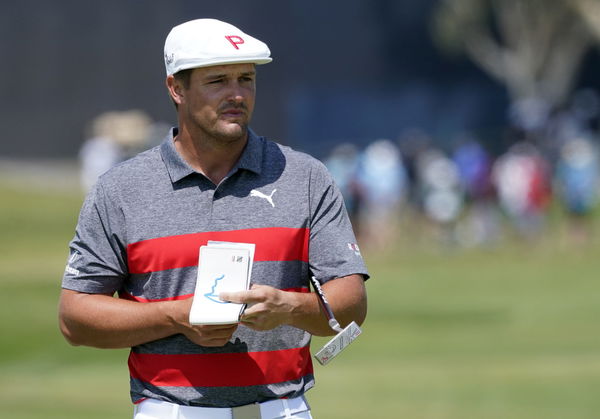 ---
---
Golf is a competitive sport. A person needs to be strong both physically and mentally to excel in this game. Brooks Koepka and Bryson DeChambeau are two such golfers. They've accomplished a lot in the sport, and have now engaged in a war of words due to their overflowing competitive juices. The Brooks-Bryson feud has been garnering headlines for quite a few weeks now, and golf legend Greg Norman has a solution to tone it down once and for all. 
ADVERTISEMENT
Article continues below this ad
Where did it all start? No one knows exactly, but Bryson and Brooks have been jawing at each other for quite a few months. The inception of it can be dated back to the 2019 PGA Championship when Koepka complained about DeChambeau's slow play. 
What started as a minor confrontation blew up after the conclusion of the 2021 PGA Championship. There have been several statements made by either athlete regarding the feud, and both of them seem to be okay with it. 
ADVERTISEMENT
Article continues below this ad
However, the feud is transforming into an unhealthy rivalry. While the golfers are not crossing any limits, fans are. Dechambeau has been a victim of bullying on the golf course, and the legendary Greg Norman has an idea to patch the relationship between these two. 
Greg Norman sees Ryder Cup as the perfect opportunity for Bryson DeChambeau and Brooks Koepka to fix their feud  
The 2020 Ryder Cup will now be played between September 24-26, 2021, as the tournament was postponed last year due to the COVID-19 pandemic. There are currently five golfers who've sealed their spot in Team USA, and Koepka and DeChambeau are two of them. 
Greg Norman recently spoke with SiriusXM PGA Tour Radio where he talked about the upcoming Ryder Cup. The Brooks-Bryson beef is another aspect Norman touched upon and offered his views on how he would try to cool them both down. 
ADVERTISEMENT
Article continues below this ad
"I would almost put them both down and play a practice round together. Just to tease everybody out and say okay, is this thing for real? Are these guys gonna make it up for the betterment of the US team and everybody else? I would probably do that being a captain because I do things a little bit differently," Norman said. 
ADVERTISEMENT
Article continues below this ad
While stating this, Norman also added that he thoroughly enjoys the beef between Bryson DeChambeau and Brooks Koepka. Don't we all?!