'Have a Chance' – Phil Mickelson Aiming to Emulate Jack Nicklaus at the 2021 Masters
Published 04/10/2021, 4:03 PM EDT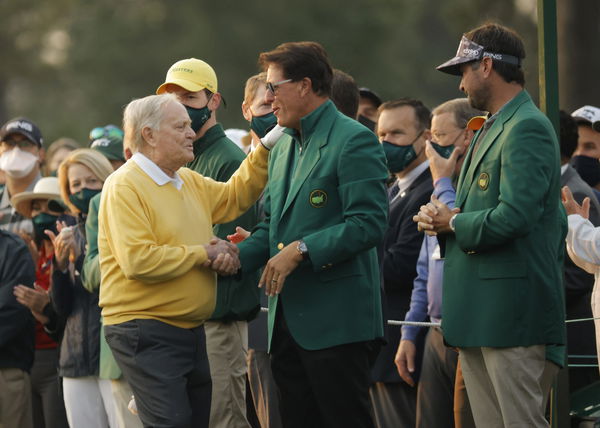 ---
---
Phil Mickelson has been enjoying his game at the 2021 Masters. The 50-year-old is playing in his 26th Masters tournament, and the experience is reflecting bright at Augusta National this year. Mickelson is currently tied for 21st place and he's hoping to emulate Jack Nicklaus with a Sunday miracle at Augusta. 
ADVERTISEMENT
Article continues below this ad
Mickelson started off his 2021 Masters campaign with a Round 1 score of 75 that included six bogies. He then followed it up with an even 72 and carried major pressure heading into the weekend. 
"I didn't play well the first two days and threw too many shots away to really give myself a legitimate opportunity," Mickelson said about his performance in the first two rounds. 
ADVERTISEMENT
Article continues below this ad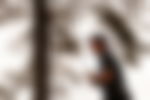 Mickelson went on a good run in Round 2 and made two crucial birdies on the back nine and finished with an even score. However, his 3-over par in Round 1 was lingering on his shoulders as he headed into Saturday. That's where Mickelson kept his calm and rode his way to a sublime 3-under 69. 
"Sometimes you get lucky and you come out, and in the morning today, it was playable and I made some birdies and then the wind picks up and leaders don't go anywhere and you end up having a chance on Sunday which is certainly what I'm hoping for," Mickelson said. 
Phil Mickelson is hoping for a Sunday miracle at Augusta
Phil Mickelson might be more than five strokes behind the leader, but he's still determined to give in an extreme effort to climb up the leaderboard on Sunday. The final round is no stranger to miracles, and Mickelson is aspiring to match an all-time great performance. 
"I'll need to shoot something in the mid to low 60s, which is still fun to have a chance. You want that opportunity to do what [Jack] Nicklaus did in '86 and shoot 65 and have a chance."
ADVERTISEMENT
Article continues below this ad
"I don't know if that will be good enough, but I'm having a lot of fun. For the first time in a long time, I finally scored, like I shot a number that was equivalent or even better than the way I was hitting it," Mickelson mentioned.
Phil Mickelson shot his Masters career-low round of 65 in 1996. It came during the first round of the tournament, but the three-time champion has never been able to match that performance until now. Can he do it on Sunday at the 2021 Masters?
ADVERTISEMENT
Article continues below this ad
Read Also: Dustin Johnson Racks Up Embarrassing Records After Missing the Cut at the 2021 Masters