Highest Paid PGA Tour Caddie: Meet Justin Thomas' Caddie Jimmy Johnson
Published 03/30/2021, 1:58 PM EDT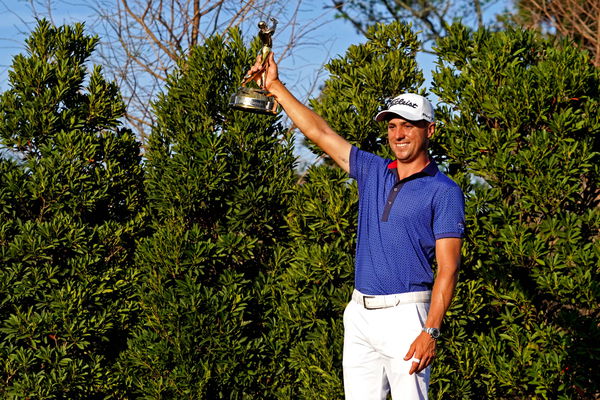 ---
---
Over the years, Justin Thomas has swiftly risen atop the World Golf Rankings. He's cemented his place at the top and holds authority as one of the best golfers in the business. However, golf is not an individual sport and caddies also play a vital part in a players' success. So who's that person in Justin Thomas' career? 
ADVERTISEMENT
Article continues below this ad
Justin Thomas is a prominent name on the tour, and so is the name of his caddie. A lot of veteran golf fans would immediately recognize the name Jimmy Johnson because he's dedicated his life to the sport for so many years. 
Jimmy Johnson is currently caddying for Justin Thomas. However, this is not the first caddie job that Johnson has had.
ADVERTISEMENT
Article continues below this ad
Get to know more about the caddying life Jimmy Johnson
Jimmy Johnson has been caddying for more than two decades which is a feat not everyone can boast about. As for his early life, Johnson grew up in Dallas, Texas, and belongs to W. T. White High School Class of 1975. 
He then played college golf at the University of North Texas and never deviated from the sport he loved. Jimmy Johnson took up caddying duties in 1997 and never looked back.
Johnson has been a caddie for some spectaculars players like Steve Stricker, Nick Price, and Adam Scott. These three guys have all won more than 10 PGA Tour events which implies that Johnson is a good caddie to have!
Jimmy Johnson partnering with Justin Thomas was a blessing in disguise. After Stricker reduced his playing time due to injuries in 2015, he instructed Johnson to move and join hands with Thomas. 
Justin Thomas won his first PGA Tour event in 2015 and it was Jimmy Johnson, who was his caddie. "I'm trying to get him to play his game and just letting the results take care of themselves," Johnson said after Thomas' maiden win. 
Justin Thomas made Jimmy Johnson the highest-paid caddie in 2020
Much of a caddie's financial success can be attributed to a player's performance at tournaments. They generally receive 10% of the total prize money won by the golfers, and this might be the equation Justin Thomas and Jimmy Johnson are working around. 
Jimmy Johnson made a total of $382,851 in 2020, along with his base salary of $120,000. His $502,851 overall payout for the year made him the highest-paid caddie in 2020 surpassing everyone else. 
ADVERTISEMENT
Article continues below this ad
"It's fun working for these young golfers because they have this carefree attitude that is infectious. It's keeping me young and on my toes," Johnson said about his relationship with Thomas. 
Justin Thomas won his first PGA Tour title under Johnson's support, and he continues to excel on the tour. He most recently won The 2021 Players Championship to add another feather to his cap, but we're sure that this combination will continue to dominate the sport for quite a few years to come! 
ADVERTISEMENT
Article continues below this ad
Read Also: Meet Austin, the Brother and Caddie of Professional Golfer Dustin Johnson
Trending Stories