How Far Did the Legendary Ben Hogan Hit Each Club in His Bag?
Published 08/14/2021, 7:30 AM EDT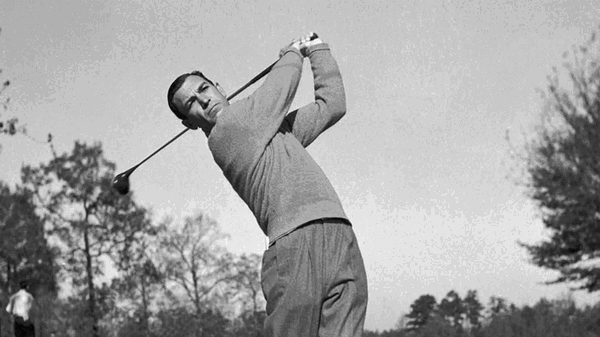 ---
---
Ben Hogan is no more, but his legacy lives on. The legendary golfer established himself as one of the all-time greats of the game with his tremendous achievements. Hogan had a pure swing and revolutionized the sport with it. While the clubs back then were not as powerful as they are now, Hogan still found maximum distance. Here's the average distance he gained with each club in his bag. 
ADVERTISEMENT
Article continues below this ad
Ben Hogan relied on his irons more than anything else. He used a shorter driver due to his five-foot-seven frame, but that did not make him compromise on the distance. Furthermore, he had added stiff steel shafts to his clubs to get optimum force, not to mention his famous 1-iron – which he effortlessly struck, despite the club offering minimum accuracy. 
The distance Ben Hogan could get with each golf club
ADVERTISEMENT
Article continues below this ad
Ben Hogan did not get to experience the power of a modern golf club. Back in his day, there were plenty of adjustments made to the clubs, but the distance one could gain was nowhere near what the pros are hitting today. 
Here's a look at the average distances that Hogan could reach with the clubs in his bag: 
Driver: 265 yards
3-wood: 235 yards
1-iron: 195 yards
2-iron: 185 yards
3-iron: 175 yards
4-iron: 165 yards
5-iron: 155 yards
6-iron: 145 yards
7-iron: 135 yards
8-iron: 125 yards
9-iron: 115 yards
Pitching wedge: 100 yards
Shooting wedge: 80 yards
Ben Hogan could smash his driver to an average distance of 265 yards. While this distance is easily achievable in today's world, that wasn't the case back then. Hogan was one of the purest strikers of the ball and fans would throng to see him play wherever he went. 
He always carried his iron set with much care as every one of them served a purpose. The longest clubs don't offer much accuracy, but Hogan always knew how to find the fairway with an angle. Are you impressed by how far Ben Hogan could hit his clubs in the 1940s? 
ADVERTISEMENT
Article continues below this ad
How many titles did Hogan win in his career?
Ben Hogan is one of the five golfers to have won the 'career Grand Slam,' a rare achievement in golf. It implies that he's won all the major championships in the sport. Besides that, he accumulated 64 PGA Tour titles, which ranks fourth on the all-time list. 
ADVERTISEMENT
Article continues below this ad
Hogan has 71 professional wins in his career and was inducted into the World Golf Hall of Fame in 1974, three years after his retirement.