Jon Rahm Will Receive Funds From the PGA Tour Despite Withdrawing From the 2021 Memorial Tournament
Published 06/06/2021, 5:30 PM EDT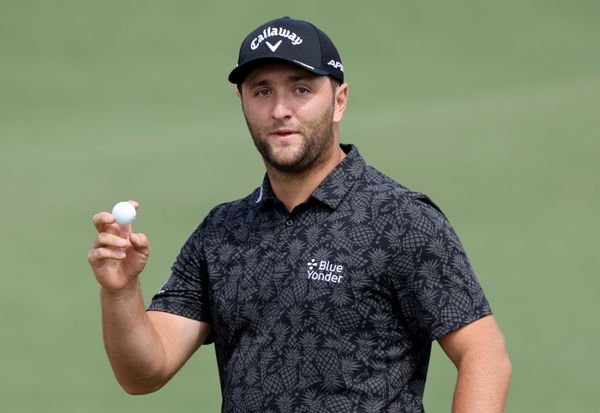 ---
---
The entire golf community is buzzing around Jon Rahm withdrawing from the 2021 Memorial Tournament. Not often do we see the 54-hole leader exiting an event as a result of testing positive for COVID-19. Rahm faced an unfortunate fate on Saturday, but if it's any consolation, he will be given a stipend due to the events that transpired. 
ADVERTISEMENT
Article continues below this ad
Jon Rahm will not be in the best mindset at the moment. He was six strokes clear of any player at the 2021 Memorial Tournament and was poised for a successful title defense. Furthermore, he was in for a seven-figure payday at Muirfield Village Golf Club, but all of it was fetched from his hands due to a positive COVID-19 test. 
Rahm has now isolated himself as per the tour's protocol and has to return two negative tests within 24 hours to come out of self-quarantine. Since all of this began at a PGA Tour event, Rahm will be given a compensatory sum to cover his costs. 
ADVERTISEMENT
Article continues below this ad
Jon Rahm is eligible for the PGA Tour's 'stipend program' 
So the PGA Tour has a list of protocols to follow when a player tests positive during a tournament. Right now, it is being applied to the situation Jon Rahm has found himself in. As per Andy Levinson, the senior vice president of tournament administration at the PGA TOUR, Rahm will be compensated for his lost prize money at the 2021 Memorial Tournament. 
"There is a stipend program for players to assist them with lost earnings and potential costs of isolation and so forth," Levinson told the media on Saturday. 
ADVERTISEMENT
Article continues below this ad
While this might not put a smile on Rahm's face, it is indeed a step in the right direction by the PGA Tour. Rahm potentially had $1.6 million in his bag this weekend but it all came crashing down with the positive test. 
There's no solid information on Rahm's vaccination status. However, he currently has the virus in his system and is asymptomatic. Rahm has to get through the isolation procedure and then think about his U.S. Open 2021 participation. 
As of now, it hangs in the balance, but since the Spaniard hasn't picked up any symptoms, there's a chance that he can get out of isolation early by recording back-to-back negative tests. The U.S. Open begins June 17.
ADVERTISEMENT
Article continues below this ad