'Negotiation Process': Lee Westwood Reveals Major Details About Caddies Helen Storey and Sam
Published 03/19/2021, 1:19 PM EDT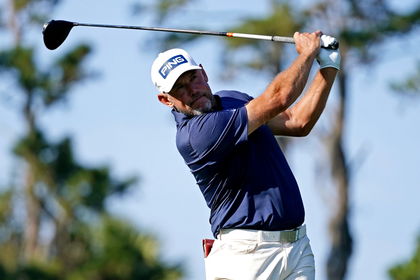 ---
---
Lee Westwood is in deep pursuit of a PGA Tour victory for the past few weeks. The 47-year-old has gained massive strides in the Official World Golf Ranking, and a lot of credit has been offered to his caddie Helen Storey for reviving his career. However, Westwood's son Sam also caddies for him, so how does the English golfer pick between his offspring and fiancee? 
ADVERTISEMENT
Article continues below this ad
It must indeed be a tough choice for Westwood. Ever since he won the Nedbank Challenge in 2018 and broke a trophyless drought of four years with Storey as his caddie, the latter solidified her place as Westwood's go-to person. 
Westwood even ended terms with long-time caddie Billy Foster after finding success with Helen Storey. It has been an enjoyable ride ever since, but Westwood's 19-year-old son Sam is now another major contender who can carry his father's bag during tournaments. 
ADVERTISEMENT
Article continues below this ad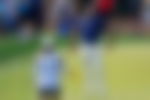 Lee Westwood seems to be preferring a caddie with whom he has a personal relationship. It is however the right logic as the 47-year-old English golfer has stated that he does not seek any extra input from his caddies and cramp his mind.
Lee Westwood explains how he picks between Storey and Sam to caddie for him
Having a sound caddie is important for any professional golfer. They aid the players during challenging moments and stand along as a pillar of support. While Lee Westwood doesn't require any external source of advice about the game, he would require emotional and psychological strength in between holes. 
But what goes behind the selection process when it comes to carrying Westwood's bag? We've seen Helen Storey doing the honors for the past few years, but Sam is now caddying for his dad at the Honda Classic 2021 and will do the same at The Masters as well. 
"Not too much difference. I just like being out there with the both of them. Both keep me relaxed. We have good chats out there. It's good bonding time. Helen picked the last two weeks to caddie. I think she's sick she didn't pick this week now," Westwood replied when asked about the difference between the two. 
ADVERTISEMENT
Article continues below this ad
"Sam is enjoying himself and looking forward to this run of tournaments where he's getting to caddie. It's a negotiation process. Helen is doing the PGA Championship and the Open, I think. I'm not sure about the Ryder Cup yet. We'll cross that bridge if I get in the team," he added. 
It is interesting that Lee Westwood used the word "negotiation process" as it implies that both Helen Storey and his son Sam are equally competing to caddie for him. As of now, Sam has got the bag on his shoulders, but Storey will definitely make a return! 
ADVERTISEMENT
Article continues below this ad
WATCH: Adam Scott and Sebastian Cappelen Take a Dip in the Water at the 2021 Honda Classic