'Neurological Barriers' – Bryson DeChambeau Explains How a Firm Grip Improves Swing Speed
Published 10/31/2021, 11:07 AM EDT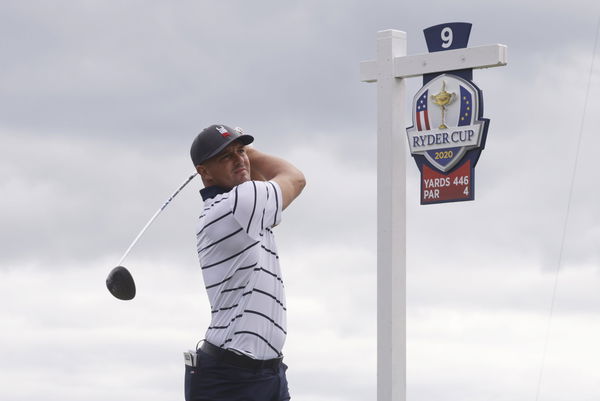 ---
---
Bryson DeChambeau is one of the most prominent names on the PGA Tour. The 28-year-old is well-known for his unconventional style of play. Moreover, he is trying to change the way the game is viewed and played. It is as if Bryson is on a mission to overwhelm the course with his power game since the resumption of the sport post the pandemic break.
ADVERTISEMENT
Article continues below this ad
Meanwhile, he recently became the first player from the PGA Tour to compete in the Long Drivers Championship. His presence in this event gave it much-deserved attention and legitimacy from fans. Moreover, DeChambeau had a brilliant tournament and impressed everyone with his performance. 
But how is he able to do all that he does?
ADVERTISEMENT
Article continues below this ad
Bryson DeChambeau spills some beans
Bryson DeChambeau is consistently working on his power game since the pandemic break. Initially, he bulked up and gained some muscles and then started his speed training by increasing the swing speed and clubhead speed. But to develop these things, one needs a firm grip because a loose grip won't give the same pace and can compromise the distance. 
Watch This Story: Top Five Money Leaders From PGA Tours
"You can move your body way faster than you think," Golf.com's playing editor DeChambeau wrote. The 2020 US Open champion then added somethingabout the power of mind and expressed, "But your brain doesn't allow your body to move faster, as it is afraid of getting injured and losing control of the club. Hence, a prominent aim of speed training is to focus on breaking these neurological barriers in order to tell your brain it's safe to move faster."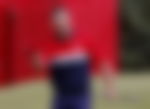 What's the other secrets behind his lethal speed?
ADVERTISEMENT
Article continues below this ad
The ardent fan of Ryder Cup, Bryson is also very particular with his diet and exercise routine. The 8x PGA Tour winner stays big on protein intake and his breakfast of four eggs, protein shakes, five bacon pieces, and a toast are a proof. Also, to generate that speed of 124 mph, the man undergoes heavy physical training too. But there's more to his secrets than just these things.
"So one way to do this is to firm up your grip," he added. "When you are training for speed, the key is to grip the club as hard as you can. However, this may differ totally from what usual coaches tell. But gripping strength correlates to overall strength and having firm grip signals the brain that your club is not going anywhere. And that's what allows you to swing faster."
ADVERTISEMENT
Article continues below this ad
Hence, in this way, having a firm grip assists Bryson DeChambeau in bombing drives off the tee. Were these advices from the champion any helpful? Help us know in the comments box below.