Patrick Cantlay Delivered a Very Humble Message After Winning $15 Million at the Tour Championship
Published 09/06/2021, 1:40 PM EDT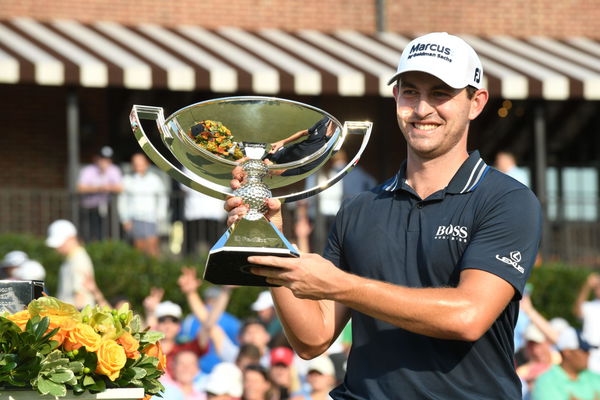 ---
---
Patrick Cantlay is the 2021 FedExCup Champion. Along with it comes a plethora of perks, and the one that stands out is the $15 million bonus. Cantlay took home the humungous prize money after winning the 2021 Tour Championship, and later made a very humbling statement that would make anybody proud of him! 
ADVERTISEMENT
Article continues below this ad
Cantlay capped off a brilliant season at East Lake Golf Club by winning his fourth tournament of the year. He's played better than any golfer this season and thoroughly deserves every accolade that he receives. 
Patrick Cantlay showcases outstanding humility 
ADVERTISEMENT
Article continues below this ad
Winning the 2021 Tour Championship is Cantlay's biggest achievement so far. Along with it, he received a payout of $15m, an amount that a lot of golfers struggle to earn throughout their careers. However, money is not the reason why Patrick Cantlay plays the game, and he re-iterated it at the winner's press conference: 
"As silly as it sounds, the money is not what's really important for me. The money is not what drives me to play this game, winning golf tournaments, playing golf under pressure, and hitting quality golf shots under the gun," Cantlay said about the $15m bonus money. 
"I mean, that's, that's why I practice. And that's, that's why I've practiced my whole life. And that's the best feeling in the world is winning golf tournaments for me. And so, you know, the money is just a consequence of that," he added. 
Cantlay's sole purpose is to enjoy the game that he plays. Winning prize money is all result of the hardwork. The latter is what matters the most. 
Did Cantlay actually win the Tour Championship?
ADVERTISEMENT
Article continues below this ad
Patrick Cantlay began the 2021 Tour Championship with a two-stroke advantage. He started at -10 and finished the tournament -21, one stroke ahead of Jon Rahm. However, if we look at the Tour Championship leaderboard alone, Cantlay wasn't the golfer who won the tournament. 
If we consider only the Tour Championship scorecard, then Jon Rahm and Kevin Na would've been tied for the lead at the end of 72-holes. Eventually, it would've forced a playoff. Rahm and Na completed 72 holes at East Lake in 266 strokes, while Cantlay took 269. 
ADVERTISEMENT
Article continues below this ad
Even though Patrick Cantlay finished three strokes behind Rahm and Na, he won the tournament owing to his huge head-start. Such is the format of the modern FedExCup.