'Probably Had It Staged' – Former Tour Pro Recounts the Infamous Tiger Woods Hot Dog Incident
Published 06/27/2021, 4:30 PM EDT ---
---
There was a time when golf was all about Tiger Woods. The charisma he possessed was inexplicable. But for a first-time PGA Tour winner, this Tiger effect overshadowed his maiden victory. Bryce Molder won his only PGA Tour trophy in 2011 but sadly did not get the spotlight even after a win. 
ADVERTISEMENT
Article continues below this ad
How did Tiger Woods grab the spotlight even after losing?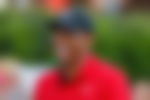 Bryce Molder won the Frys.com Open in 2011, which is now the 'Safeway Open.' But it was Tiger Woods who stole the show even though Molder was the champion. Molder recently shed light on that incident in a recent interview with Golf.com: 
ADVERTISEMENT
Article continues below this ad
"Frys.com Open and my one literally shining moment. Tiger was in the field. You know, I didn't get the Masters with the win, but Tiger was in the field. He was teeing off the back nine on Sunday. He didn't play very well. But weirdly, his third last hole. Somebody ran on the green and threw a hot dog at him," Molder began.
"I remember looking at it and going, this is so great. It was like 'Tiger gets hot dog thrown at him,' blah blah blah blah, 'Molder wins against some other guy.' Like it was, he has like three paragraphs, and I had like this little snippet about like a six-hole playoff first win blah blah blah, and that's it," he mentioned.
"I'm like that is so great, like it was so perfect. But yeah, somebody threw a hot dog at him, and uh, he probably had it staged right, he just needed to because he needed the light."
ADVERTISEMENT
Article continues below this ad
Bryce Molder won this trophy in the playoffs against Briny Baird after scoring a birdie on the sixth extra hole. But unfortunately, as he said, there was not much of a talk about this victory. The charisma of Tiger Woods was such that whatever he did or happened to him would become news. And Bryce Molder, an underdog, registered a win in a playoff, but it got blocked out because of a silly incident. 
Molder played golf for another six years after that but could not register a win for himself. And finally, in 2017 announced his retirement from professional golf.
ADVERTISEMENT
Article continues below this ad