Rory McIlroy Reminisces the First Time He Played Against Dustin Johnson
Published 04/02/2021, 2:00 PM EDT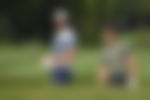 ---
---
Dustin Johnson and Rory McIlroy are two of the top golfers who are associated with equipment company TaylorMade. So when these two talented golfers got together for a promotional shoot, a lot of interesting anecdotes came to light, much to the delight of Johnson and McIlroy's fans. 
ADVERTISEMENT
Article continues below this ad
TaylorMade assembled both Dustin Johnson and Rory McIlroy to test a new driver while chatting about what makes their tee-shots successful on the course. During the course of the conversation, McIlroy reminisced his first-ever duel with Johnson. 
"D.J. and I go way back. So we first played against each other in the Walker Cup in [2007]. So we've been playing against each other for 13 years and like D.J. has changed his game from then," McIlroy mentioned. 
ADVERTISEMENT
Article continues below this ad
"I remember when we played Walker Cup you predominantly hit a draw that was sort of your natural shape and then once he got out on tour, he's always had unbelievable length and athleticism and makes the game look so easy," he added. 
Rory McIlroy loves the confidence Dustin Johnson carries with him
Rory McIlroy and Dustin Johnson are two of the best golfers in the world. McIlroy is ranked #11 in the Official World Golf Rankings, while Johnson is #1. These two pros have been at the top of their games for years, and the mutual admiration is what keeps their relationship intact. 
The pair played together at the Augusta National ahead of the 2021 Masters, and McIlroy was fascinated by how Dustin Johnson can vary his tee-shots to suit a golf course. 
"We played two practice rounds at Augusta last week and then played the the first two days together and you know everyone says Augusta is a predominantly right-to-left course," McIlroy began.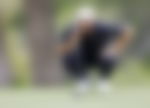 "I think he's practiced so much and he's hit that left or right shot so much that it's so comfortable for him even on a dogleg left. To have that confidence standing up over any tee shot knowing that 'Okay I'm just gonna aim it over here and I know it's going to fall right' and that's testament to him how many balls he hits and how hard he works," he expressed. 
ADVERTISEMENT
Article continues below this ad
It is just incredible to see the amount of praise Rory McIlroy showered upon Dustin Johnson. These two are rivals on the tour and are equally competitive, but they never fall short of respecting each other's game. 
The 2021 Masters is right around the corner, so who are you backing between these two? Johnson or McIlroy? 
ADVERTISEMENT
Article continues below this ad
Read Also: 'Kind of Feel Bad': Jordan Spieth Sympathizes With Dustin Johnson Ahead of the 2021 Masters