Tiger Woods' Ex-Wife Elin Nordegren: Where Is She Now and What Caused the Downfall of Their Relationship?
Published 08/29/2021, 2:30 PM EDT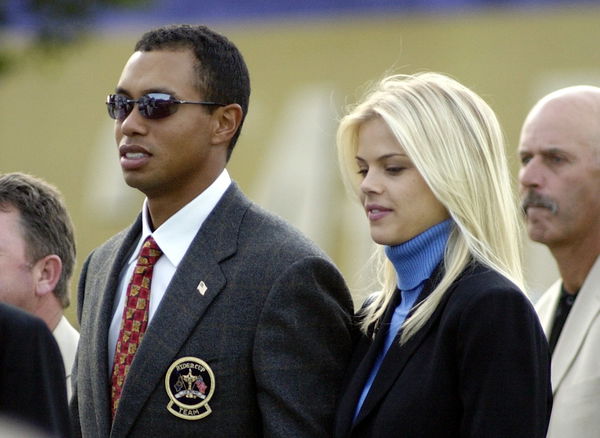 ---
---
When one hears the name Tiger Woods, one thinks of him as the greatest golf player of all time. His achievements over the past two decades have helped him earn that legend status, many agreeing that his prime years remain unbeatable. Woods' private life, though, went through a lot of controversies, ultimately even affecting his career in the end.
ADVERTISEMENT
Article continues below this ad
However, Woods made a comeback, winning the Masters in 2019. The controversy initially blew up in 2009 after his car crash, even brands dropping him as their spokesperson and more. Of course, Nike remains one of the companies that stuck with Woods.
Let's take a look at Woods' ex-wife Elin Nordegren, drawing a timeline for the set of events.
ADVERTISEMENT
Article continues below this ad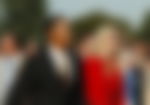 When did Tiger Woods marry Elin Nordegren?
Tiger and Woods dated for years before finally settling down and tying the knot. The couple married on October 5, 2004, and were actually introduced to each other in 2001. They were married up until 2010, a year after the Woods scandal went public. They were married at the Sandy Lane resort in Barbados, right by the 19th hole. Woods actually rented the complex for the wedding week, along with the golf courses, 110 guest rooms. The wedding reportedly cost him around $2 million.
He proposed at the Shamwari Game Reserve.
How did Tiger Woods meet his first wife Elin Nordegren?
Woods first met Nordegren during the 2001 Open Championship. Swedish golfer Jesper Parnevik introduced Woods Nordegren to each other, and the latter was then hired Nordegren as Parnevik's nanny. She was actually working in a clothing store in Stockholm, moving to the USA after being hired as a nanny.
Do Tiger Woods and ex-wife Elin Nordegren have kids?
Yes, the couple does have two kids together. The eldest daughter Sam Alexis Woods was born in 2007, while they welcomed their son Charlie Axel to the world in 2009.
Woods spoke about his kids during the 2019 Masters championship and said how his kids and their support mean everything to him. "Just their infectiousness of happiness; you know, I was going through a tough time physically. There were a lot of times when I really couldn't move and so that in itself is difficult".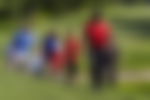 Why did Tiger Woods and Elin Nordegren divorce?
Woods and Nordegren's relationship came to an abrupt halt in 2009 when the golf icon's cheating scandal was revealed. It started with a National Enquirer article, where Rachel Uchitel came forward with allegations. The claims were initially declined, only to be brought back up later.
The golf star ended up in a car crash, which was apparently caused due to an argument between him and his ex-wife. However, despite the initial denial, people spoke up about Woods. In an interview back then, Woods accepted the allegations. "I felt I was entitled. Thanks to money and fame, I didn't have to go far to find them. I was wrong. I was foolish". 
Many describe this as Woods' lowest moment where he lost everything. People around him often spoke about the tough time he had, especially as his life fell apart within months. Reports also reveal that Woods did believe they could work on their marriage, also taking a break from his career.
In the end, the couple parted ways, divorcing on August 23, 2010, at the Bay County Circuit Court in Panama City.
How much did Tiger Woods pay ex-wife Elin Nordegren in a divorce settlement?
Elin Nordegren received a whopping $100 million in the divorce settlement. The couple shares their children's custody.
Is Tiger Woods' ex-wife Elin Nordegren currently married to NFL player Jordan Cameron?
Nordegren is currently in a relationship with a former NFL tight-end Jordan Cameron. The couple is extremely happy together and their son, Filip Nordegren Cameron, was born on October 4, 2019. Last year, they changed his name to Arthur.
Is Tiger Woods still friends with his ex-wife?
ADVERTISEMENT
Article continues below this ad
Reports add that Woods and Nordegren are somewhat friends again, both working together for their children and themselves. Woods spoke about now having a best friend, adding that they do actually communicate better now. They are also working together for their children, wanting to protect them during COVID-19.
While speaking to the golf channel, Notah Begay III complimented the two, adding how they were indeed supporting their children even if co-parenting is hard.
Who is Tiger Woods currently dating?
ADVERTISEMENT
Article continues below this ad
Tiger Woods is in a relationship with Erica Herman since September 2017, and the couple met through Woods restaurant in Jupiter, Florida. Herman used to work at The Woods Jupiter when she fell in love with Woods. Since then, Erica Herman has attended numerous golf tournaments to support Woods, including the 2019 Masters, where he achieved the unthinkable.