Tiger Woods vs Phil Mickelson Head-to-Head Record: Who Leads the Epic Rivalry
Published 01/10/2022, 5:30 PM EST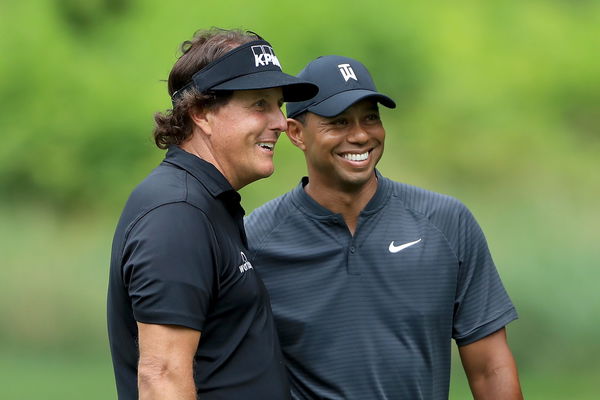 ---
---
Tiger Woods and Phil Mickelson are two of the top players currently on the PGA Tour. While Tiger is considered the greatest golfer of all time, Phil is not too far behind himself. However, while Woods has 82 PGA Tour and 15 major championship wins, while Mickelson has 45 PGA Tour and six majors in his career so far. 
ADVERTISEMENT
Article continues below this ad
As two of the best, these two golfers have had a slight history together. Fans believe that there was a feud between the two earlier in their careers. However, both Phil and Tiger currently have a good equation and celebrate each other's success. But what is their record when they are paired together? Let's find out. 
ADVERTISEMENT
Article continues below this ad
Tiger Woods vs Phil Mickelson head-to-head results
Tiger Woods and Phil Mickelson have been playing on the PGA Tour for quite a while now. Phil joined the PGA Tour in 1992, while Tiger did so in 1996. However, they had contrasting careers. Tiger won a major in 1997 and has dominated the golfing world since. As for Phil, he occasionally chipped in with his brilliance and won his first major in 2004. However, when grouped on the PGA Tour, can you guess who has performed better?
Watch This Story: Look: Golf World Votes for 'Klay Thompson' of the PGA Tour
ADVERTISEMENT
Article continues below this ad
They have been together on 38 occasions, and Tiger has shot a lower round 19 times, while Phil 15 times and they have tied on four instances. Hence, this shows Tiger has had an upper hand in this head-to-head battle so far. 
Breakdown of all 38 encounters between Tiger and Phil
Here are all the 38 occasions where Tiger and Phil were in the same group. 
ADVERTISEMENT
Article continues below this ad
| | | | |
| --- | --- | --- | --- |
| Event and year  | Round  | Tiger Woods |  Phil Mickelson  |
| 2020 Zozo Championship |  Fourth | 74 | 78 |
| 2018 Players Championship |  Second | 71 | 73 |
| 2014 PGA Championship |  First | 72 | 79 |
| |  Second | 74 | 67 |
| 2013 Deutsche Bank Championship |  First | 74 | 69 |
| |  Second | 67 | 71 |
| 2012 U.S. Open |  First | 68 | 63 |
| |  Second | 70 | 71 |
| 2012 AT&T Pebble Beach Pro-Am |  First | 69 | 76 |
| |  Fourth | 75 | 64 |
| 2011 WGC-Cadillac Championship |  Third | 70 | 72 |
| |  Second | 74 | 71 |
| |  First | 70 | 73 |
| 2010 BMW Championship |  Fourth | 70 | 67 |
| 2009 Masters |  Fourth | 68 | 67 |
| 2008 U.S. Open |  Second | 68 | 75 |
| |  First | 72 | 71 |
|  2007 Deutsche Bank Championship |  Fourth | 67 | 66 |
| |  Second | 64 | 64 |
| |  First | 72 | 70 |
|  2006 PGA Championship |  Second | 68 | 71 |
| |  First | 69 | 69 |
| 2006 Ford Championship at Doral |  Third | 68 | 72 |
|  2005 Ford Championship at Doral |  Fourth | 66 | 69 |
| 2003 Buick Invitational |  Fourth | 68 | 72 |
| 2002 Tour Championship |  Fourth | 70 | 69 |
| |  First | 71 | 70 |
| 2001 Masters |  Fourth | 68 | 69 |
| 2001 Players Championship |  Third | 66 | 72 |
| 2000 Tour Championship |  First | 68 | 67 |
| 2000 WGC-NEC Invitational |  Third | 67 | 69 |
| 2000 Buick Open |  Third |  67 | 65 |
| 1999 U.S. Open |  Third |  72 | 73 |
| 1998 Nissan Open |  Second | 73 | 76 |
| |  First | 68 | 67 |
| 1997 Tour Championship |  Second | 68 | 72 |
| 1997 NEC World Series of Golf |  Second | 72 | 72 |
| 1997 PGA Championship |  Fourth | 75 | 75 |