WATCH: Justin Thomas' Heartwarming Gesture Sends Young Golf Fan Into a Frenzy
Published 08/20/2021, 8:30 AM EDT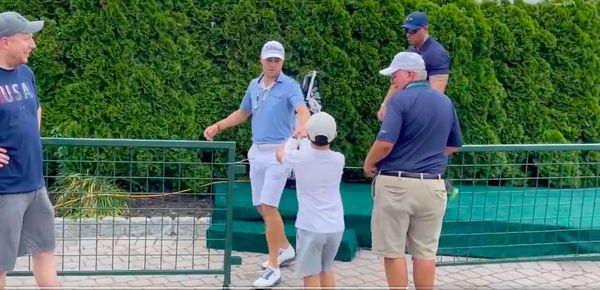 ---
---
Growing up, one tends to idolize celebrities they draw inspiration from. This includes athletes across all sports, who are seen as heroes for children as they hope to play the same game. More often than not, we see athletes giving away shoes, a band or even a towel to one such lucky fan they meet – looking to inspire as much as they can. Justin Thomas did one such deed recently.
ADVERTISEMENT
Article continues below this ad
In a recent video uploaded by a proud and excited father, Justin Thomas gives away his shoes to a little fan at the Northern Trust. Naturally, the video brought along a lot of positive responses. Other fans appreciated Thomas' gesture and acknowledged how incredible the child must've felt upon meeting his idol in real life.
ADVERTISEMENT
Article continues below this ad
Justin Thomas gifts his fan a pair of cleats at the Northern Trust
While the Northern Trust continues, the father shared the video online while thanking Thomas for his gesture. "Life just got so much better for my son," he wrote, adding that he does not have any words for Thomas. People shared and liked the video on Twitter, some replying as well. Fans commented about how JT liked the fans t-shirt with his face on it, others simply appreciating the gesture.
Talk about some big shoes to fill.

— Free Thinker – Do Not Comply ⭕️ 🚀🌖 (@robertpgill) August 18, 2021
He can look forward to growing into those.

— Josh Matney (@JoshMatney3) August 18, 2021
Eventually, even the PGA Tour shared the video.
"There he is, see him right there," the dad says pointing at Thomas who enters the frame, with the kid responding with an enamored 'no way' while pointing out his new golf shoes.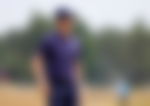 Soon enough, Thomas spots them, handing over the shoes to the child with a 'here you go dude'. The father remains surprised, asking Thomas if he was indeed serious. "Probably going to be a little bit before they fit you but that's all you," Thomas adds as he walks away, the dad thanking JT.
The kid then walks over before the video comes to an end, showing the new shoes off in the camera.
ADVERTISEMENT
Article continues below this ad
The kid also personally met Thomas, who ended up posting a photo of the same on his Instagram story. He poses with the young fan, writing: This wins my award of the favorite shirt of the say. The shirt was a collage of sorts of Thomas' pictures.
ADVERTISEMENT
Article continues below this ad
The Northern Trust also ended up sharing the same video on their Twitter account, with many people stating how psyched the kid looked.