WATCH: Tiger Woods Walks On Water and Makes Incredible Golf Shot
Published 06/02/2021, 11:30 PM EDT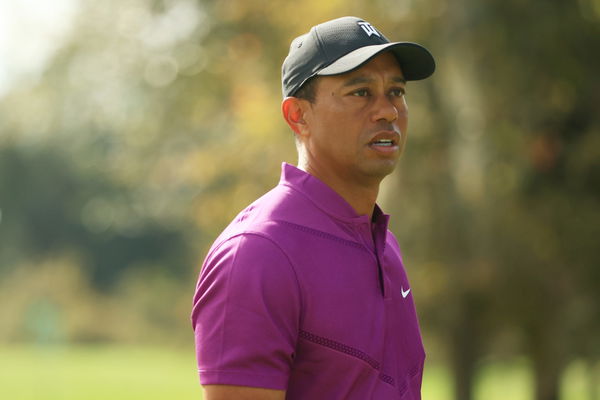 ---
---
Not every PGA Tour golfer lives the dream as a professional. Only some reach a stage in their careers where they're literally considered as a "god" of the sport. Tiger Woods is one such athlete who's been at the pinnacle for so long, and Woods once thrilled the world by walking on water to play a golf shot! 
ADVERTISEMENT
Article continues below this ad
Tiger Woods is the name we all hear when people converse about the GOAT in golf. Of course, there are other legendary players from the past, but Woods revolutionized the sport in his own way. 
Some say that there's nothing that Tiger Woods can't achieve on the golf course. There's no limit to his talent, but a gamer called "Levinator25," posed a challenge in 2008. After purchasing the official 'Tiger Woods PGA TOUR 08' game, the gamer found out that the game had a glitch. 
ADVERTISEMENT
Article continues below this ad
He showcased to the world that the EA Sports designed game gave Tiger Woods the ability to walk on water. He accused them of giving the golfer supernatural abilities, but the creators just had to prove the impossible. 
Tiger Woods used his superpowers to walk on water
When a fan questioned EA Sports about the glitch in their game, they had to respond. And respond they did, in perfect fashion! They teamed up with Tiger Woods and created the perfect video to prove that the 82-time PGA tour champion can indeed walk on water. 
"It's not a glitch. He's just that good," EA wrote in response.
ADVERTISEMENT
Article continues below this ad
Such a wonderfully made video, isn't it? Right from Woods talking on the shallow water to hitting the ball in the hole, the entire sequence is masterfully created. It might not be true, but it came out as a hilarious response from the game creators. 
It was also dubbed as the "Jesus shot" since Woods could be seen walking on water like a literal god. Haters will say it's fake, but Tiger Woods fans know that the GOAT is indeed capable of these feats! 
However, upon close observation, one can find that Woods actually violates a rule in the video. Defying physics is mind-blowing, but according to the rules of golf, a player is not allowed the touch the hazard in the ground or that water (in this case) with his hands or a club. But hey, it wall also for a light cause! 
ADVERTISEMENT
Article continues below this ad