Wayne Player Clarifies Motive Behind Controversial Moment That Got Him Banned From the Masters
Published 04/14/2021, 12:30 PM EDT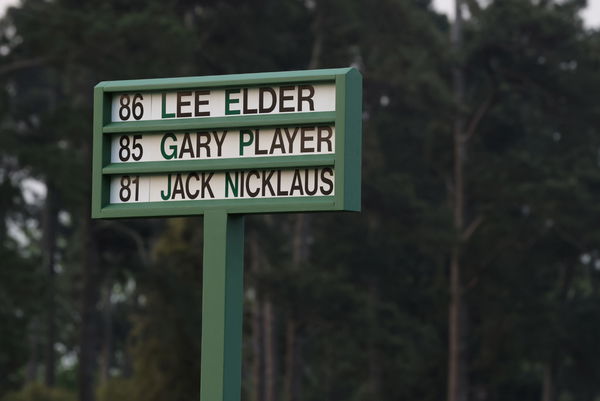 ---
---
The 2021 Masters was not short with controversies despite experiencing smooth progress from the start till the end. The buzz around an incident that took place during the solemn ceremony on April 8 has still not settled down. Wayne Player was alleged to have used a guerrilla marketing tactic to promote OnCore golf balls. 
ADVERTISEMENT
Article continues below this ad
For those who are unaware of Wayne Player, he is the son of 24-time PGA Tour winner Gary Player. The latter, along with Lee Elder and Jack Nicklaus was an honorary starter at the 2021 Masters. Wayne was attending the ceremony as his father's caddie. 
Wayne Player got himself banner from the Masters over a controversial moment
ADVERTISEMENT
Article continues below this ad
Player was standing behind his father Gary when Augusta National chairman was Fred Ridley rendering a recognition speech about the honorary starters. While Lee Elder was the center of attention during the honorary tee-shot ceremony, Gary Player did something that agitated a lot of fans. 
As Fred Ridley went through his speech hailing Elder for his achievements, the camera naturally focused on the four-time PGA tour winner. However, the camera also caught Wayne Player displaying a sleeve of OnCore golf balls in the background.
The moment was clearly captured and the words 'VERO X1' could be seen, which is the newest edition of balls manufactured by OnCore. This got everyone thinking that Wayne Player was using a really unimpressive marketing strategy to promote the OnCore golf balls.
Consequently, Augusta National took a stern decision and banned Gary Player from future tournaments. This move really affected the Player family as Wayne's father Gary is considered a legend at the Masters. 
Read Also: Hideki Matsuyama Spotted Carrying His Masters Green Jacket Like Its a Cheap Sweater
Does Player own a stake in OnCore? 
Everybody was displeased with the fact that Wayne player tried to advertise the OnCore 'Vero X1' golf balls by stealing Lee Elder's moment. However, Player recently reached out to clarify the allegations against him. 
"The only thought from that point was that it would be cool for fans to know what ball my dad was teeing off with," Player told Golf Digest. "That's where it ends. If I've hurt people's feelings then I'm truly sorry and hope they will forgive me."
Player informed that he had "zero intent" in marketing the balls. He was obliged to clarify his actions since he owns a stake in the OnCore ball company. But he asserted that this did not play any part in holding up the ball sleeve in front of the camera. 
ADVERTISEMENT
Article continues below this ad
Agreed. Wayne has since correctly been banned from Augusta National and The Masters tournament. What a shame. What an embarrassment. What a bad decision to allow him on the first tee after years of similar shenanigans. My apologies to all.

— Marc Player (@Marc_Player) April 12, 2021
However, Wayne Player is quite disappointed that he's been banned from the Masters forever. He did not see that coming and feels things are "getting out of hand" with regard to the massive criticism. 
ADVERTISEMENT
Article continues below this ad
Read Also: Steph Curry and Under Armour Announce Exciting News for Golf Fans