What Caused Brooks Koepka's Wrist Injury at the 2021 Tour Championship?
Published 09/05/2021, 3:20 PM EDT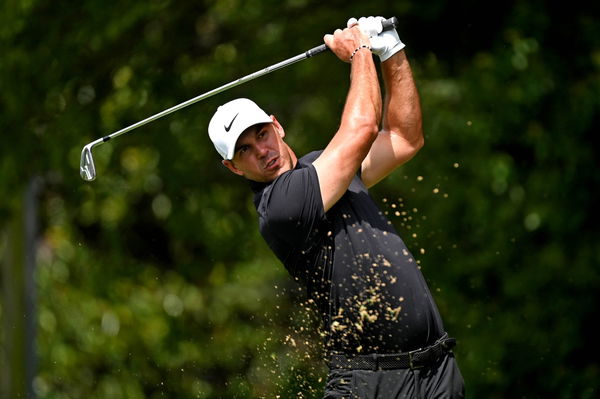 ---
---
Brooks Koepka's journey at the Tour Championship has come to an unfortunate end. While the season-ending tournament promises to offer the best performances, sometimes things do not go as planned. Brooks Koepka, who was near the bottom end of the leaderboard, had to withdraw from the Tour Championship on Saturday after an unexpected injury.
ADVERTISEMENT
Article continues below this ad
Koepka, according to reports, has suffered from a wrist injury. While he did try to continue and play, he withdrew with what was a swollen wrist. Now while his wrist is likely to heal, this does cause problems, especially with the highly-anticipated Ryder Cup right around the corner. Let us take a closer look at Koepka's injury and other details regarding the same.
ADVERTISEMENT
Article continues below this ad
Why exactly did Brooks Koepka have to withdraw from the Tour Championship in Atlanta?
Reports state that Koepka injured himself during the third round, and had to retire after that. Koepka had ended up in the rough on the 10th hole, where he apparently hit a root. Soon after, Koepka and his caddie Ricky Elliott knew something was wrong. Later, PGA Tour also revealed that Brooks did feel the injury immediately in his wrist and forearm.
After hitting a root on the 10th hole @BKoepka injured his left wrist. He played a few holes after the 10th but ultimately withdrew from @playofffinale. He's flying home to South Florida tonight. Plans to have X-ray on wrist tomorrow which was noticeably swollen.

— Todd Lewis (@ToddLewisGC) September 4, 2021
ADVERTISEMENT
Article continues below this ad
The moment he hit the root is also caught on camera, where he releases his club, and then proceeds to shake his arm. He bends over after the shot, his left hand resting on his leg.
ADVERTISEMENT
Article continues below this ad
The 31-year-old seemed positive about his injury and is simply looking to move forward.
"Same wrist I had issues with back in '17, '18, so just making sure it's all good,"
said Koepka.
Additionally, he will be taking home the prize money meant for the last place.
Other injuries Brooks Koepka has faced in his career
With the recent injury (and the age factor in play), Koepka's frequent injuries could be a cause for concern eventually. He hurt his wrist in 2018, which forced him to pull of the Masters. Another significant injury is his left knee, which he injured in 2019, causing him to miss various events throughout the year. While back on the course, Koepka has stated that his knee will never return to its optimum strength.
Last year, he was out of the FedExCup Playoffs and the US Open. In 2021, another knee ailment forced him out of the Players Championship.
Upcoming events
Koepka is to play at the Liberty National Golf Club next week, a $250K charaity game with Barstool Sport's founder Dave Portnoy.