What Putter Does Jordan Spieth Use: Model, Grip, Specifications, and More
Published 08/31/2021, 8:30 AM EDT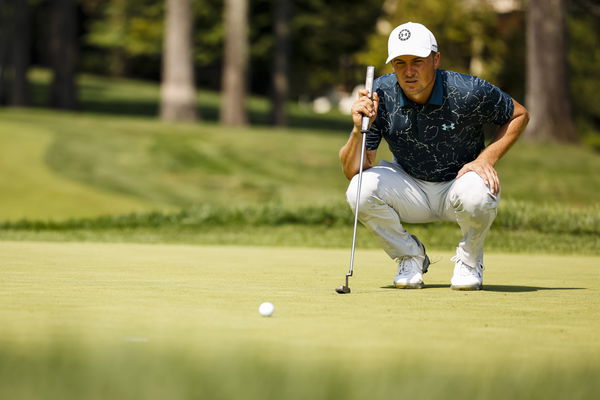 ---
---
Jordan Spieth is one of the most talented golfers in the world. Spieth belongs to those rare group of golfers who have a complete game in their arsenal. The Texas native is only 28-years-old but has already won 12 PGA Tour events. Here's some insight into what putter Spieth is using in 2021. 
ADVERTISEMENT
Article continues below this ad
Putting is an important aspect of golf. It is also one of the hardest, considering the complications that come along with playing from the green. Hence, it becomes necessary to have a good piece of equipment to aid your talent on the putting green. 
What putter does Jordan Spieth use in 2021? 
ADVERTISEMENT
Article continues below this ad
When it comes to putters, a lot of golfers like to stick with comfort. They don't go out often changing putters as it massively affects the feel on the green. Jordan Spieth has been sticking with the same 'Scotty Cameron Circle T 009' since his junior years. 
The Scotty Cameron putter has been Spieth's #1 choice for more than a decade, and it has also been producing results. So there has been no major reason for Jordan Spieth to think about changing putters. 
Spieth is still using the Scotty Cameron Circle T 009 in 2021. Furthermore, the 28-year-old received a fresh change to his putter grip this year owing to wear and tear on the handle. He installed a new SuperStroke Traxion Flatso 1.0 grip to complement his putting game. 
"The 009 was my favorite putter [as a junior golfer]. Adam Scott and Geoff Ogilvy, two of my favorite golfers, used it, and that got me. I've been using it since I was 15, and I won't be changing anytime soon," Spieth once said about his Scotty Cameron Circle T 009.
What's so special about the Scotty Cameron Circle T putters? 
ADVERTISEMENT
Article continues below this ad
The first thing one should notice about these putters is that there is a small 'T' inscribed inside the word 'O' in Cameron. These models were initially launched in the 1990s when Scotty Cameron was starting out as Titleist. 
The T was initially brought in to serve a purpose. When they were sending out the putters to the tour pros, the T was inscribed to mention the same. It denoted that the putters were to be sent to PGA Tour pros. 
ADVERTISEMENT
Article continues below this ad
And ever since its introduction,  the T model putters have become incredibly popular. They serve a massive purpose and are made from materials like Carbon Steel, German Stainless, and Surgical Stainless steel. There are also subtle differences one can notice between a normal Scotty Cameron and the T edition.