Ranking the 3 Greatest Rivalries in Golf History
Published 09/11/2021, 10:34 AM EDT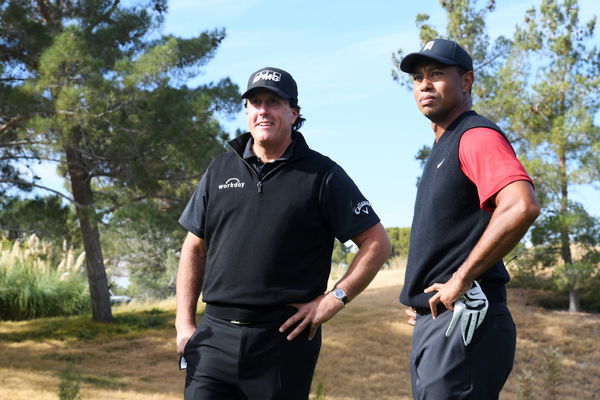 ---
---
Brooks Koepka and Bryson DeChambeau's beef is currently one of the hottest topics in the world of golf. The feud caught the limelight at the 2021 PGA Championship. During a post-round interview, Koepka rolled his eyes, lost focus, and uttered a few words as DeChambeau walked behind him.
ADVERTISEMENT
Article continues below this ad
Meanwhile, the video was leaked and posted on Twitter, after which it went viral and led to a cascade of amusing memes. Meanwhile, what prompted Koepka's reaction remains unclear. However, this is not the first time that there has been a feud in golf. There have been plenty of feuds between players. So, let us have a look at some of the greatest rivalries from the past.   
ADVERTISEMENT
Article continues below this ad
The most famous rivalries in golf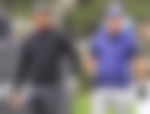 Tiger Woods and Phil Mickelson
Similar to Brooks and Bryson, this feud had as much to do with opposite personalities as performance. Initially, Tiger Woods was all about business. He used to smile for the cameras but did not really try to win over fans who were not impressed with his game. However, Phil Mickelson was the complete opposite. Mickelson used to be all business and presented his carefully polished fun-and-fan loving side to the public. 
However, Woods dominated Mickelson on the course, and the tension between these two was very much visible. But as time passed, the two became friendlier. But the tension between these was real for over a decade. 
Paul Azinger and Seve Ballesteros
Paul Azinger does his best to deny the feud, most likely just to respect the memory of the legendary Seve Ballesteros, who died from brain cancer in 2011. But Azinger also acknowledged that "everyone had a back and forth with Seve," which is a way of saying his row with Ballesteros was real. 
ADVERTISEMENT
Article continues below this ad
The feud began at the 1989 Ryder Cup when Seve told Azinger he would be changing out his damaged ball on the green, to which the American insisted the ball was fine. Two years later, Ballesteros turned the tables by charging Azinger and teammate Chip Beck with changing the type of ball they were using. The Americans lost their focus and the match. Seve once said, "The American team has 11 nice guys and Paul Azinger."
Gary Player and Tom Watson
This was probably the biggest and ugliest feud in golf history. The feud took off in the early 1980s when Watson accused Player of fixing a spike mark, which was against the rules. But things exploded in 1983 when Watson said Player illegally moved a growing weed from behind the ball. 
ADVERTISEMENT
Article continues below this ad
However, Player fired back, saying Watson should return his Masters and British Open titles of 1977 as he won them while playing with non-confirming grooved irons. And after that, these two players never really got along together well.