PHENOMENAL: John Isner Strikes 107 Aces at Mutua Madrid Open 2021 After Losing a Close Battle to Dominic Thiem
Published 05/07/2021, 9:07 AM EDT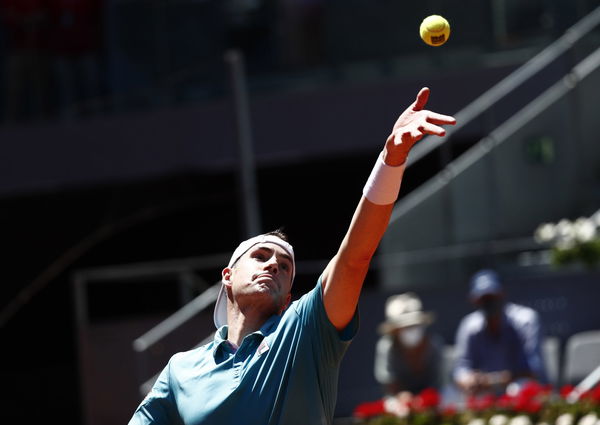 ---
---
World No.4 Dominic Thiem continued his comeback and reached the semifinals of Mutua Madrid Open 2021 after beating former American No.1 John Isner in three sets. Isner again produced a disciplined serving game on the clay courts of Madrid but couldn't continue his fierce service until the end of the match.
ADVERTISEMENT
Article continues below this ad
John Isner dominates Dominic Thiem in the first set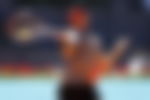 Isner dominated from the first point of the match. Carrying his service form from his last three games in Madrid, the American was formidable on serve.
ADVERTISEMENT
Article continues below this ad
Clocking at above 120 mph, Isner's serve was untouchable. Isner just missed his first serve only five times in the opening set. Before the match, Isner had 89 aces in the tournament.
As he bombarded his first serves, his return numbers also increased. Carefully dominating Thiem from the baseline, Isner, in no time, had a 3-0 lead.
As the set went on, Thiem was getting into the match, but Isner then started coming to the net and changed his tactics according to Thiem. The Austrian stared at being 4-0 down but saved two consecutive breakpoints to deny Isner the advantage.
From serving at 4-2, Isner didn't lose a single point on serve until the set was over. Serving for the set at 5-3, Isner hit four consecutive aces to strike first in the match – 6-3.
Dominic Thiem's comeback to stay in Madrid Open 2021
As Thiem looked for a comeback, he started coming to the net more often. The Austrian looked a bit more settled than the first set but was still unable to break Isner's serve.
Taking his first set form, Isner continued to extend his consecutive serve points from the first set. He had ended the first set with eight consecutive points and in the second won five more to make it 13 and put the set at 2-2.
Serving at 2-2, Thiem endured a 10-minute service game where he had to save four breakpoints. After multiple deuces, Thiem managed to save his serve and lead the set 3-2. Isner's volleying was at its best, which forced Thiem to change multiple times.
After failing to convert four break points in the last game, Isner's intensity dropped massively. His aces dried out, and he missed a volley with which Thiem broke him for the first time in the match.
Later , Thiem had a small hiccup because of his second serve but moved to a controlling position after winning the second set 6-3.
Dominic Thiem beats John Isner in his own game
ADVERTISEMENT
Article continues below this ad
The third set started off with Thiem on the driver's seat. His forehand was flowing as Isner's forehand started to crack. The American saved a breakpoint in his first service game. As Isner's first serve percentage dropped drastically, Thiem's was on the rise.
Thiem had multiple one-minute service games that put the pressure back on Isner. The set was at 3-3, as Isner tried his best to stay in the match.
Struggling with his first serve and backhand, Isner barely hung on as Thiem finished off his service game quickly from the other end.
ADVERTISEMENT
Article continues below this ad
Isner made some surprising mistakes while volleying to hand the vital break to Thiem. The Austrian served for the match at 5-4 and won the tie – 6-3, 3-6, 4-6 and advanced further in Madrid.