Player Profile: Philippe Coutinho
Published 08/19/2014, 10:30 AM EDT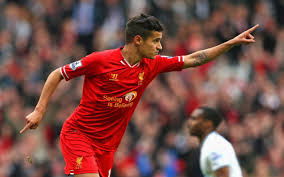 ---
---
Philippe Coutinho, a player from Brazil, considered great enough to be the next Kaka or Ronaldinho ,started his football career with Inter Milan acquiring the new talent at the age of  16 . He was  recently bagged by Liverpool under Brendan Rodgers after the  A player who seemed to have lost his way, much like another Lulinha, and one we had forgotten about,  burst back onto the scene when on loan at Espanyol, where he once again proved his worth.
ADVERTISEMENT
Article continues below this ad
ADVERTISEMENT
Article continues below this ad
He is a typical Brazilian player in many respects. He is skilful, as you would expect. There are games where you simply cannot handle him, games like United at Anfield and against Barca in his Espanyol days, where he kept turning the Barcelona RB inside out. He can skip past players with ease, and does it with all that footballing arrogance that we know Brendan Rodgers loves so much in all of his players. He is a prospect with traits much like his ex-teammate Luis Suarez – he seems to be able to do anything, with the ball stuck as his feet, crazy little tricks – and yet he does not go over the top – or get carried away.
He also adds yet more pace to a Liverpool attack that went from being one of the slowest to probably the quickest in the league right now. It is something you really cannot beat, pace. It will destroy any older players, and gives you that little advantage when a referee is debating whether to give a free kick or not.
His finishing is also second to none – as are his set pieces, which again, remind me very much of Luis. Perhaps it is that South American flair which both the players share. But, most of his goals have come from tricky positions, or free kicks, and it leaves you wondering, just how he actually scored them. 
Coutinho has moments of sheer brilliance but also tends to be having off games lately, possibly because of the lack of continuous game time he has been getting. That is not likely to get any better this year with the likes of Lallana already signed and Liverpool looking for one final wide forward. But with the talent Coutinho offers, if he gets his form right I doubt there is anyone in the Liverpool roster that can take his place away from the starting XI. 
Wrapping up the good bits of Coutinho's game, he is still only very young, but is also very experienced – having played in the European competitions, 3 leagues and for Brazil – again at 3 different levels, and at a tournament level. He is no longer seen as the next Kaka, even though he could be. 
However, despite lyrical gospels about his game, he does have his weaknesses, and you could also say that these were the same ones labelled at Daniel Sturridge – which mean that they obviously don't concern Rodgers all too much: Selfishness and strength. He also tends to be painfully right footed at times.
It has been said that if Coutinho is to succeed in England, then he will have to get stronger, and bulk up a little bit. He goes down easily in Spain and Italy, So you really do have to fear for him here in England, where the game is tougher and quicker, and a place where many flair players; have failed to settle(Shinji). However, if he works hard on his fitness and strength, does the gym work and follows what he is told to do, then he should be fine.
ADVERTISEMENT
Article continues below this ad
As I mentioned earlier, he is also seen as a selfish player – who holds onto the ball for too long and will pick the wrong option. However, again, I do not think that this will be a huge problem over the long term. Although, he has started playing with his head up a lot more, but in my opinion that remains another front he still needs to work on.  
ADVERTISEMENT
Article continues below this ad
His exclusion from Brazilian WC squad was hardly justified, but having started at such a young age, there is no telling how much he still has left in him to improve. If he kicks on next season, Liverpool will have a far lesser burden to bear, having sold who had been possibly the best attacker in England last season.