Pierre Gasly Earns The Wrath Of Helmut Marko And One Can Say, Fairly So!
Published 06/29/2019, 2:19 PM EDT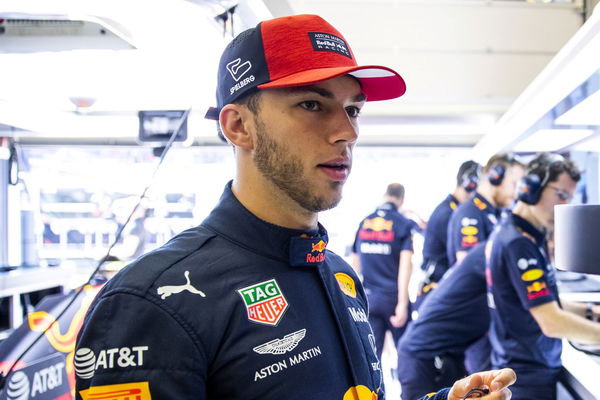 Red Bull, it could be said, had a somewhat lackluster day at qualifying for the Austrian Grand Prix of 2019. The odds, it can be said, were always stacked in favor of Max Verstappen to put up something special at Spielberg, the home race for the Horner-driven team.
ADVERTISEMENT
Article continues below this ad
Pierre Gasly could only manage a lowly P8, even behind the likes of Alfa Romeo's Kimi Raikkonen while teammate, Max Verstappen scored a strong second.
It mustn't be forgotten that Verstappen was the race winner here in 2018 when he helped Red Bull win their home race event for the first time in their F1 journey. Meanwhile, Pierre Gasly didn't exactly impress his team with his eighth. His chances of scoring a strong finish now remain how well can he navigate and crisscross across a set of highly competitive drivers in the immediate front, including-Raikkonen, Hamilton and Norris if one were to discount Giovinazzi.
ADVERTISEMENT
Article continues below this ad
Among the people who were quick to level criticism on Gasly, given a mindset that hasn't exactly earned a lot of praise for it lacks the focus and apparently, even dedication, was Helmut Marko.
It must be said that the former Austrian F1 driver can be a bit notoriously critical and more often than not, with his own team members.
To that end, here's what Helmut Marko had to say on Pierre Gasly, who's six places behind his more experienced teammate:
"He has to adapt it to his driving style. He should concentrate on driving and not constantly tell Mr. Newey how to build the car for him."  Marko told Autosport.
The criticism against Pierre Gasly feels a bit just and timely for the simple reason that it was only a week back that the Frenchman slumped to a pathetic tenth place finish at his home race, in Le Castellet. Any improvements at Spielberg on Sunday can only do his career a great deal of help.