Pierre Gasly Keeping Silent on Red Bull F1's Problems, But Only for the Time Being
Published 02/04/2020, 12:37 PM EST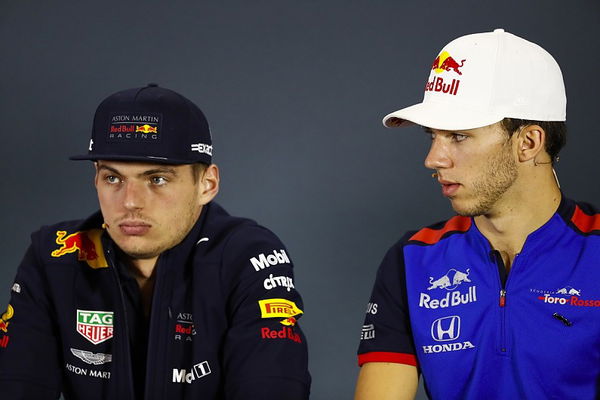 ---
---
It's a well-known fact that Pierre Gasly struggled at Red Bull. Despite great fanfare, the Frenchman failed to impress. The reasons for Gasly's struggles at Red Bull still remain a mystery. However, the Frenchman has admitted that he will reveal the cause of the slump in his book.
ADVERTISEMENT
Article continues below this ad
Pierre Gasly on his troubles with Red Bull
Pierre Gasly made his full-time Formula 1 debut in 2018. Gasly had a strong season with Red Bull's sister team Toro Rosso and this didn't go unnoticed. After Daniel Ricciardo announced his decision to leave Red Bull from 2019, the team needed to find a suitable replacement. Pierre Gasly was the obvious choice.
ADVERTISEMENT
Article continues below this ad
Fans were interested to see how Max Verstappen would respond to a challenge from a new teammate. The expectation was that the duo would be closely matched and Pierre would pick up from where Daniel left off. Sadly, that wasn't the case.
During his tenure at Red Bull, Gasly struggled to match Verstappen's pace. The Frenchman was consistently slower than Verstappen on race weekends – there were even occasions where Gasly was lapped by Verstappen. Gasly's poor form left Red Bull with no option but to demote the Frenchman to Torro Rosso.
People wondered if Gasly's racing career was over. The media were ruthless after his demotion and questioned his racing spirit. Gasly however, did his talking on the track.
speaking to RaceFans, Gasly threw light on his difficult time at Red Bull
"I have written down my book in which all things that were not correct or not as I should have had them written. But for the time being, I will keep this private,"
Redemption with Toro Rosso
ADVERTISEMENT
Article continues below this ad
Ever since returning to Toro Rosso, Pierre Gasly has put in some amazing performances in a subpar car. Furthermore, Toro Rosso achieved its second podium of the season following Gasly's heroics in Brazil. It almost seemed like Gasly was a new driver compared to his struggles at Red Bull.
Some attribute Gasly's turnover to the environment at Red Bull. Driving for the Milton-Keynes outfit can cause immense pressure as the team has lofty expectations. Red Bull's do or die environment may have tweaked Gasly's psychological wellbeing.
Additionally, being teammates with Max Verstappen is no easy task. The Dutchman is currently one of the best drivers in F1 and has the ability to extract the maximum potential from the car. This too may have played on Pierre's mind.
ADVERTISEMENT
Article continues below this ad
However, once Gasly was back at his old team he drove like 'a free man'. It appeared as if the pressure had disappeared and Gasly could focus on his driving. That resulted in some commendable drives – post the summer break.
All of the points mentioned above are pure conjectures. Only Gasly himself can reveal the true reason for his struggles at Red Bull. Pierre claims he will disclose his struggles at Red Bull in his book.