Pierre Gasly Opens Up on his Emotions After Tragic Passing of Anthoine Hubert
Published 09/02/2019, 3:58 AM EDT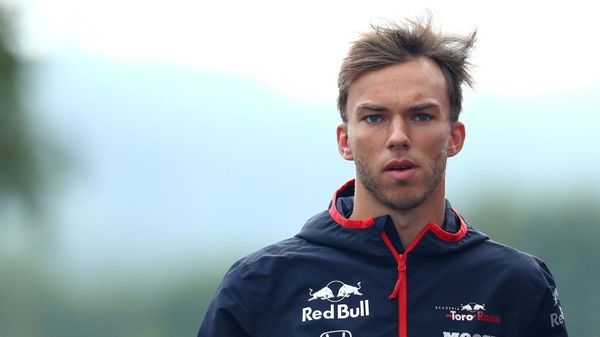 ---
---
The recently concluded Belgian Grand Prix was an emotional weekend for every driver. One of the drivers, who was quite badly hit on the emotional spectrum was Toro Rosso's Pierre Gasly. The Frenchman dubbed the Belgian Grand Prix as "the most emotional race I ever had". What really upped the emotional factor was that the late Anthoine Hubert was his childhood friend.
"You are not ready at 22, 23 years old to live this kind of moment, to lose one of your best mates," said Gasly. "I've grown up with this guy since I was seven in karting. We have been room mates, we've lived in the same apartment for six years. We've been classmates, I have studied since I was 13 until 19 with him the same professor in a private school.
"I feel shock, I did not realise how it can go so fast. It's just terrible. I've already planned to see all our friends we had with Anthoine tomorrow because none of us really understand and realise what happened yesterday and it's just super sad."
Eventually, Ferrari driver Charles Leclerc galloped to victory, albeit with Lewis Hamilton breathing down his neck. As a result, the Monegasque driver sealed his maiden win in his Formula One career. LeClerc and Gasly were both very good friends of Anthoine Hubert when they were young.
Gasly continued, "I told Charles before the race 'please win this race for Anthoine' because we started racing in the same year, Charles, Anthoine and myself. And actually Anthoine won the French cup in 2005.
"We raced together for so many years and we all knew each other. Between Jules [Bianchi] a couple of years ago, now Anthoine, I think it's really terrible news for French motorsport. They were two great, amazing characters. It's just really difficult to realise."
The 23-year old confessed that the horrifying crash truly opened his eyes to the dangers of motor racing. He revealed that when talking to other people who were not racing, they claimed that 'F1 is so safe now, it's completely different than it used to be before'.
He further stated that inside the car he felt secure and that almost nothing could happen to the drivers. However, Pierre Gasly admitted that at those speeds, reality can hit back hard. The Toro Rosso driver was aware that in his line of work, there will always be high chance of death, but they have to accept that risk.
Meanwhile, LeClerc also bared his soul and emotions, he said, "Losing Anthoine yesterday brings me back to 2005, my first ever French championship, there was him, Esteban, Pierre and myself. We were four kids who were dreaming of Formula 1. We grew up in karting for many, many years. To lose him yesterday was a big shock for me"