Player Profile: Kevin Strootman
Published 08/20/2014, 9:05 AM EDT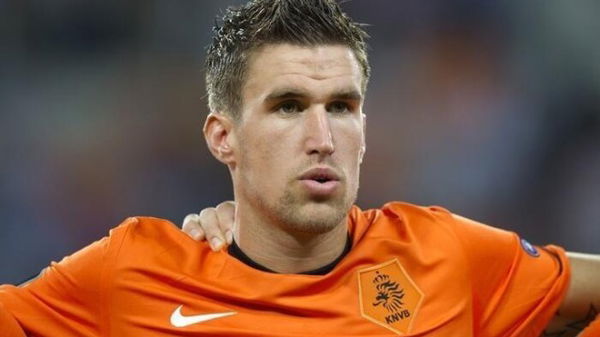 ---
---
Kevin Strootman is probably one of the most talked about midfielders in the world right now. A linchpin for both his club and country, he has been one of the most consistent and effective midfielders for the better part of three seasons now. It was no surprise Roma were celebrating signing him last summer, although his horrid injury recently has ruled him out till late August. I think it speaks volumes that Louis van Gaal opted to switch to a three man defense and change his strategy altogether when Strootman was ruled out of the world cup due to injury.
ADVERTISEMENT
Article continues below this ad
To sum up his game, I'd have to say he is an old-school central midfielder. He loves to pass, he loves to make runs off of the ball, he loves to power through defenses, he loves to defend, he loves to keep the opponent guessing and he has a hell of a bullet-shot when needed. I love this type of midfielder, as I think they're a dying breed. How many midfielder's can you name off of the top of your head that do all the things I listed? Not very many, at the top level anyway.
You will find that in the modern game, it's all about being an attacking midfielder or a defensive midfielder, and never both. The modern game has taken away the ability for a player to demonstrate versatility within the game, due to more emphasis on the player formations. But players like Strootman don't work that way.  Strootman isn't the most skillful player in the world, but that's what's great about him. He doesn't need the tricks because he has the vision to make up for it. Once he sees a pass, he'll do all he can to make that happen. I don't mean to be too pushy or anything, but he reminds me of a very young Steven Gerrard, or a modern day Scholes with pace – and these are meant as massive compliments.
ADVERTISEMENT
Article continues below this ad
However, the issue is Serie A, and unfortunately that league is not what it once was, and in my opinion isn't even a top league any more, owing to Juventus massively improving while Inter and Milan are falling off the pace.  The problem with such leagues is that translating talent is a very difficult thing. Strootman definitely has the potential to achieve a lot more in much more competitive leagues, but it would take a lot of hard work and determination, which I think he definitely has. Even when he's played for Netherlands he's looked the same. Admittedly, not as outstanding – but that's due to him being surrounded by very experienced dominant players such as Van Persie and Robben, so he may as well have been  a little star-struck. Nevertheless, this player has got a lot of potential, and I think he's definitely worth a shot at signing for a Premier League team at the right price.
Would Strootman Cut it in the Premier League? – In my opinion, yes he would. It's a risk to say that, but he has some real class in the centre of midfield and I feel that he has the potential to be the real boss of that midfield in most sides.