Playing It My Way: The Controversy Behind Sachin's Autobiography
Published 11/05/2014, 5:01 PM EST
By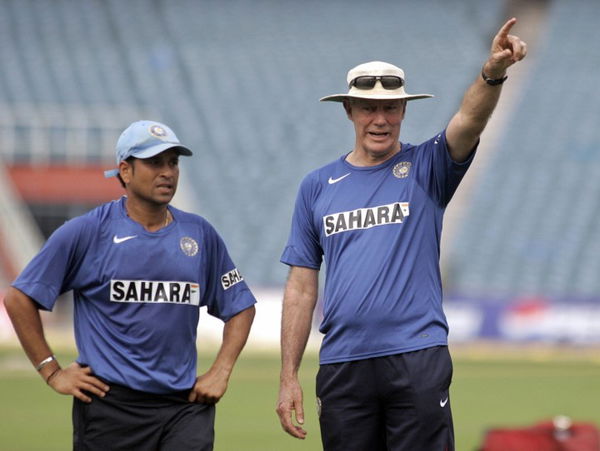 "We enjoyed a pleasant afternoon together but the subject of captaincy was never raised." says emcee Greg Chappell
ADVERTISEMENT
Article continues below this ad
Controversial is perhaps an understatement for what Indian Cricket sees Greg Chappell as during his brief stint as India's coach from 2005 to 2007. Chappell has moreover been under the scanner for being authoritative and imposing as Coach. He has often gone against the wind and taken steps which are not only difficult to explain to the Indian fan but even to the players. The most recent controversy he has been involved in is mentioned in Sachin's autobiography "Playing It My Way" which is out now for sale.
Tendulkar claims that Chappell wanted to remove Rahul Dravid as captain of the side before the 2007 World Cup in the West Indies. He has revealed in his autobiography that Chappell tried to lure him into taking charge of Indian cricket when he said, "Together, we could control Indian cricket for years." In an excerpt from his forthcoming autobiography, Playing It My Way, which will be released on November 6, Tendulkar had written that Chappell had visited him at his house a few months before the World Cup and suggested that he take over the captaincy from Dravid.
ADVERTISEMENT
Article continues below this ad
"The claims made in Sachin's new book were brought to my attention earlier today. Whilst I don't propose to get into a war of words, I can state quite clearly that during my time as Indian coach I never contemplated Sachin replacing Rahul Dravid as captain," Chappell told cricket.com.au.
"We enjoyed a pleasant afternoon together but the subject of captaincy was never raised." he added.
"I was therefore very surprised to read the claims made in the book. During those years, I only ever visited Sachin's home once, and that was with our physio and assistant coach during Sachin's rehabilitation from injury, at least 12 months earlier than what was reported in the book.
Another topic for embroilment that has sprung up recently is that Sourav Ganguly, the former Indian captain, had stated that his successor, Rahul Dravid, knew everything that was happening around him. If you're wondering what was happening around Dravid, it was a set of pathetic decisions and strategies called by Greg.
"Yet, he couldn't control the freakish nature of the coach.I was not surprised to see India not qualifying for the next round (in 2007 World Cup). When I came back to the team, I had spoken to Dravid about that much later and told him that these were the things going on. He said he knew it all but couldn't control Greg," is what Ganguly had to say in blunt disclosure.
In rebuttal, on Monday, Dravid countered Ganguly's claim that he could not control the Australian. Refusing to join the bandwagon of Chappell bashers, Dravid said that whilst Ganguly had the right to an opinion on the controversy, he had no right to put words into his mouth. Dravid made it clear that he had no such conversation with Ganguly.
ADVERTISEMENT
Article continues below this ad
As we see these bickering articles stemming, it is but a question so as to whether the release of his autobiography is doing more bad than good with different accusations being made on the stalwarts of Indian cricket. It also raises many questions as to why such a legend would keep this information guarded all through his career and reveal it in such subtle terms. Autobiographies seem to be the new thing with cricketers to get back at people and organizations.
Looking back at the two controversies in this write-up, it is crystal clear that the Chappell era controversies have resurfaced and do pose new questions as to why the BCCI failed to act and take suitable steps to prevent the bad blood going within the team prior to the 2007 World Cup. Another question that arises is whether or not this was one of the factors behind India's early exit in the 2007 WC.
Will this autobiography bring more scandalous stories out and shock the cricketing world? Only time will tell.
ADVERTISEMENT
Article continues below this ad