Long Drive World Champion Kyle Berkshire Shares Two Simple Tips to Increase Driving Distance
Published 10/04/2021, 3:30 PM EDT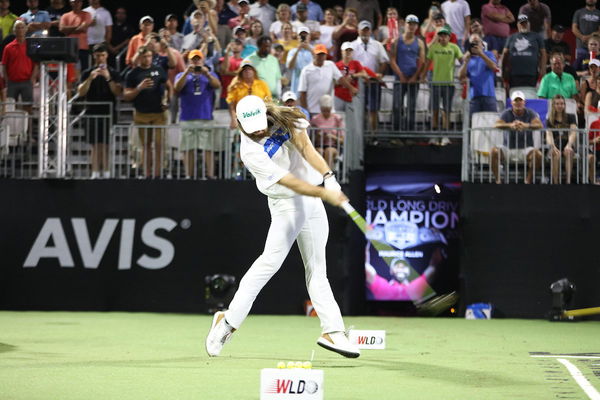 ---
---
The Professional Long Drivers Champion Kyle Berkshire is the longest and hardest hitter of the golf ball. Meanwhile, Berkshire doesn't just smash the dimples on the ball, but he obliterates them and gains some unfathomable distance. He gets the ball so high and far that one can only wait and hear the official distance, which most of the time is 400 yards plus. 
ADVERTISEMENT
Article continues below this ad
He is so good with this that Bryson DeChambeau has enlisted his services as a private speed-training tutor. And hence, people who see this insane skill try to imitate it but fail and give up. So here's how you can manage to get such blazing speed. 
ADVERTISEMENT
Article continues below this ad
How does Kyle Berkshire get such insane speeds?
Kyle Berkshire isn't necessarily a muscular guy but still manages to get some unfathomable distances. And the secret behind this is he has a plan which even you can follow. But here's a warning: it won't come quickly.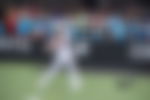 "I'm really not a big believer in drills — speed isn't a quick fix," Berkshire told GOLF.com. "If you want lasting speed, you need to train for it." He further explains that there are two pillars for adding speed. The first pillar is speed practice, and the second is fitness.
"My recommendation, three times a week, swing as hard as you can at 50 balls," he said. "They should be going all over the place because you're basically overloading your nervous system. That overload is going to result in the nervous system recovering a little bit quicker and more robust."
Watch This Story: At What Age Did Tiger Woods Become a Billionaire?
"You're going to have the same swing. It's just going to happen a little bit faster. That's what I'd recommend instead of trying to hunt for a quick tip because quick tips lead to quick regression."
ADVERTISEMENT
Article continues below this ad
LIFTOFF on day 2 at the World Long Drive Championships.

Today, we'll chop the field from 64 to 32. Bryson tees off at 3:45 p.m. local time, but enjoy this blast from Kyle Berkshire in the meantime. pic.twitter.com/ZqxZwasE8y

— James Colgan (@jamescolgan26) September 29, 2021
Watch This Story
However, speed training is the first step. The next step is to ensure your body has enough strength. "You want to get stronger," he said. "You don't necessarily need muscle mass, but you want to get stronger. To gain strength, you will need to eventually gain muscle. That's just kinda part of the biological process of adapting your body to bigger loads."
ADVERTISEMENT
Article continues below this ad
Moreover, the best way to get stronger is to focus on training your body as a powerlifter, which means train at lower reps with high weight. Hence, train for strength and not for hypertrophy. So, if you stick to these two plans, you will start to see your drives go further and straighter.