Pokimane Gets An Unusual DMCA Strike on Her Twitter Account
Published 12/29/2020, 12:16 PM EST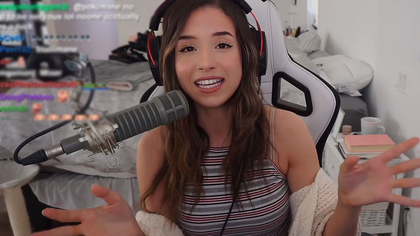 ---
---
The Digital Millennium Copyright Act is turning into the worst nightmare for streamers. While the DMCA already had YouTubers in its grip, Twitch streamers roamed free until recently. However, Twitch also updated its copyright policy a while ago. Fearing DMCA strikes, almost every streamer on the platform, including the likes of Pokimane, xQc, and TimTheTatman, had to delete hundreds and thousands of clips and VODs.
ADVERTISEMENT
Article continues below this ad
Putting the deletion fiasco in the past, streamers thought they were safe from any DMCA strikes. However, the latest tweet by Pokimane shows that the horrors haven't passed just yet. Poki shared a screenshot of a support message she got from Twitter, informing her that her account had been locked.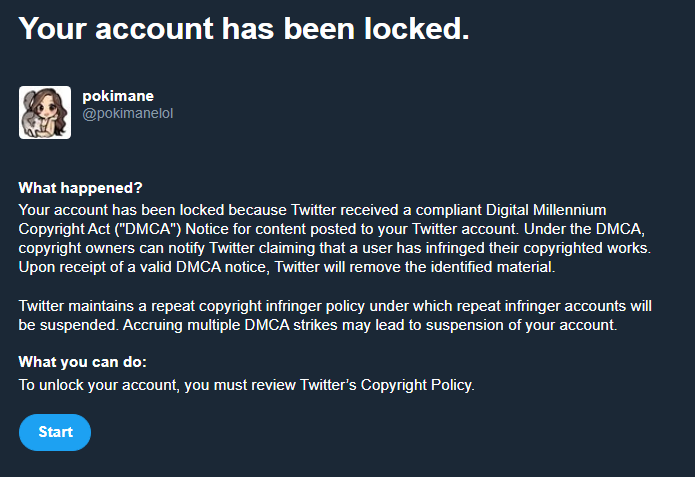 ADVERTISEMENT
Article continues below this ad
The notification informed Pokimane that she had posted some content that infringed certain copyright. Therefore, someone had registered a complaint under the DMCA leading to the penalty.
Pokimane tweets "I love girls" and gets a DMCA strike
Part of the DMCA notice was the removal of tweets containing copyrighted content. Poki also shared both the tweets that Twitter removed due to the complaint. The first tweet contained a TikTok video that Poki made to the song 'Say so' by Doja Cat. While this could still be a valid reason, the removal of her second tweet is baffling.
Per the complaint, Twitter also deleted a tweet from Poki that said, "I love girls."
Poki, along with all of her fans, couldn't figure out how this tweet infringed any copyrights. Replying to a fan, Poki said that her lawyers will be reaching out to the authorities. No one should get a DMCA notice for finding girls cute.
ADVERTISEMENT
Article continues below this ad
now THAT is something i will not stand by and allow 😤 @DMCA you'll be hearing from my lawyers!

— pokimane (@pokimanelol) December 29, 2020
Although it looks like Pokimane's attempt at humor during a crisis, there is no reason for her not to be serious. There is only so much creators can take, while DMCA notices exploit their hard work most of the time without valid reasons. Pokimane wasn't the only creator whose Twitter account got locked. Popular variety streamer xQc also faced something similar.
ADVERTISEMENT
Article continues below this ad
It appears that the DMCA is going all out against those who have used copyrighted content, especially celebrities such as streamers and YouTubers. After deleting most of their life's work on Twitch, will they have to delete their tweets too?