Popular Fortnite Character Features on Netflix Show
Published 12/30/2020, 1:14 PM EST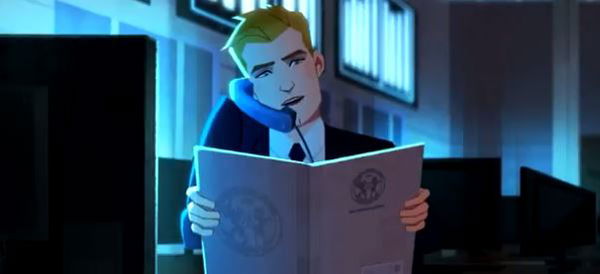 ---
---
With Sony's big lineup of TV Shows and films based on video games, it looks like the upcoming years will be pretty big for gaming-visual media crossovers. Recently, some players noticed a popular Fortnite skin featuring in the Netflix show, 'Carmen Sandiego'.
ADVERTISEMENT
Article continues below this ad
Further reading: Rockstar Games Reportedly Scrapped Popular Franchise to Work on GTA 6
Jonesy from Fortnite features in Netflix's 'Carmen Sandiego'
ADVERTISEMENT
Article continues below this ad
The Agent Jonesy skin has recently made its way into Fortnite. Although it has an Uncommon rarity, the previous variant of the skin was quite popular. Jonesy represents the Soldier class in the game. Furthermore, he is also one of the randomized default recruits in the Battle Royale.
A popular Fortnite leaker on Twitter, Greasy, recently tweeted a picture followed by a clip of Agent Jonesy in 'Carmen Sandiego'. Agent Jonesy seems to be a part of the iconic British Secret Service, or 'Her Majesty's Secret Service', like James Bond.
Further reading: This Grandma is Better Than You at Call of Duty Warzone
In the clip we see Jonesy informing higher authorities about "an impending police action against an illegal diamond mining operation" in 'Botswana'.
ADVERTISEMENT
Article continues below this ad
Further reading: Top 5 Characters That Made Fortnite Great Again in 2020
This is not the series' only connection with the gaming industry
Jonesy is not the only connection this animated action-adventure series has with the world of games. 'Carmen Sandiego' is based on the educational mystery video game series from the house of Broderbund. The Netflix series follows the story of the eponymous protagonist, who is like a modern-day Robin Hood. She steals from the Villains' International League of Evil (V.I.L.E.) and distributes it among the victims of this infamous organization.
ADVERTISEMENT
Article continues below this ad
Jonesy does not fit in with the original inspiration behind the series. His appearance was a mere cameo in the ninth episode ('The African Ice Caper') in Seasom 2 of the show. Nevertheless, his presence speaks volumes about Fortnite's popularity. However, this huge Battle Royale title's popularity has been faltering in recent times, which raises the question: Is Epic trying to make the game relevant again, through cameos in popular shows?