Popular Insider Shares a Rather Futile Update on the Dr Disrespect Twitch Ban Fiasco
Published 12/23/2020, 4:01 PM EST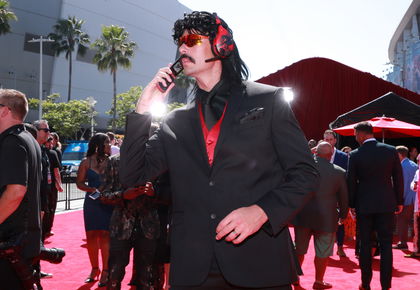 ---
---
The world of steaming was left shell-shocked with the news of Dr Disrespect's ban from Twitch. He was quite possibly one of the biggest personalities on the platform. This is why his ban from the platform was even more shocking. However, what is more, shocking is the fact that there is still no known reason behind why it happened.
ADVERTISEMENT
Article continues below this ad
Twitch did mention that Dr Disrespect had been banned permanently from the platform, but they never said why. Even Dr Disrespect himself is still clueless as to what exactly happened back then. Obviously, this invited a lot of absurd theories and speculation which Doc shot down as he heard of it. Now, the big question resurfaced on a stream again where popular industry insider Slasher has provided an update that seems rather pointless.
During a recent Twitch stream, Slasher was asked the same question which has been on everyone's mind since forever: Why was Dr Disrespect banned from Twitch? He did claim that his so-called 'credible' sources have given him the actual reason behind it, but he refrains from sharing it.
ADVERTISEMENT
Article continues below this ad
Even on this stream, Slasher mentioned that he knows a big secret but he doesn't want to share it. Clearly, this was absolutely pointless as it is exactly the same thing he has said before. Nothing about this was different and there is no point pondering over this any further. The video was spotted by Esports Talk who were the first ones to report this. Take a look at their video below:
ADVERTISEMENT
Article continues below this ad
Dr Disrespect himself doesn't know the reason behind his ban
Dr Disrespect himself has admitted that he is unaware of the reason behind his ban. While that may seem a little far-fetched, it could indeed be true considering Twitch does not always provide a reason for its bans. Ninja also recently shared his thoughts on the ban where he said that Doc obviously knows why he was banned. However, the only way to know for certain if either Twitch or Doc put out an official statement stating the real reason.
Doc also mentioned hos his Twitch ban caused him a lot of anxiety and how he was coping with it. It may have been difficult for him considering he was possibly the face of Twitch. He even signed a huge contract with the platform, and everything was gone overnight.
ADVERTISEMENT
Article continues below this ad
So far, his move to YouTube has been more or less successful but Twitch was where he made his mark. Hopefully, we will hear of a reason behind this one day(Hopefully)