Portugal : The "Deserving" European Champions
Published 07/13/2016, 11:53 PM EDT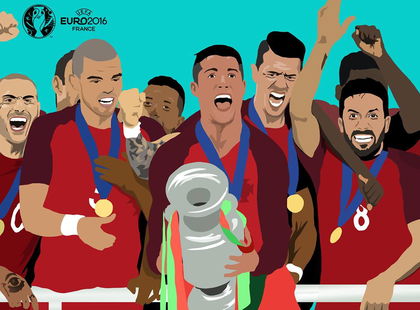 ---
---
July the 10th will be remembered as a golden day in Portuguese football history. The day when an unattractive Portuguese team, without their star man Cristiano Ronaldo, somehow got the better of a French team who were destined to rewrite history on their home turf. The "Ugly Ducklings" of EURO 2016, as proclaimed by the Portuguese media itself, did something that Portuguese legends like Luis Figo, Rui Costa, Deco, Nuno Gomes & even the great Eusebio couldn't manage. Who would've thought the team that struggled against debutantes Iceland and a lifeless Austrian side would go on to lift the infamous European trophy at the end? But were they really worthy winners?
ADVERTISEMENT
Article continues below this ad
After a 1-1 & 0-0 draw against Iceland and Austria respectively, football pundits labelled Portugal as the most boring team to watch in the Euros. But it was a bit ironical as the same dour and tame Portuguese side played arguably the game of the tournament against Hungary which ended at 3-3, meaning Cristiano Ronaldo and co. avoided an early exit from the competition. Portugal were drawn against Croatia in the last-16 tie. Croatia were the favorites to go through after they humiliated Spain in their last game. The midfield of Ivan Rakitic, Ivan Perisic and Luka Modric was more than enough to win any game.
But Portugal retreated into a more defensive shell, as most of the teams tend to do nowadays in any knockout game. As expected, Portugal sat deep in their own half inviting Croatia to attack. Croatia had 59% of the possession & 16 shots compared to Portugal's 6. But 19 of those 22 shots of the game were off-target. Undoubtedly, this was the most dull game of the tournament. Finally, the first shot on target came in 117th minute when Nani scuffed a shot across the box to Ronaldo, whose effort was kept out by Croatian goalkeeper Subasic, but the rebound fell to Quaresma who headed it into an empty net. The dramatic late winner meant a quarter-final berth for Portugal. They were ecstatic, they exceeded expectations, they knocked out a title contender in Croatia. But Croatia's Rakitic and Corluka were quick to point out that they were the better team. Even though, Portugal actually made their chances count unlike Croatia who had better chances to take the lead but failed. Sour Grapes? Maybe.
ADVERTISEMENT
Article continues below this ad
Portugal locked horns with Poland in the quarter-final, led by an under-performing Robert Lewandowski. But he silenced all his critics when he netted his first goal of the Euros in the 2nd minute. The lead didn't last long though, as Portugal levelled just after the half-hour mark through an 18-year old Renato Sanches. The game ended at 1-1 after extra time. Both teams had their fair share of chances, Portugal had 14 shots on target as compared to Poland's 10. Ricardo Quaresma capitalised on Blaszczykowski's spot-kick save from Rui Patricio and the penalty shootout ended at 5-3, with all five Portuguese players scoring from 12-yard. Fernando Santos' men were semi-finalists without even winning a game in normal time. Strange and unexpected? Yes. Lucky? NOT AT ALL. True that they didn't win a single game in 90 minutes, but they didn't lose any either.
The semi-final brought a 'Galactico Showdown', Gareth Bale versus Cristiano Ronaldo. A big game calls for big players. And Cristiano Ronaldo delivered as he fired Portugal to Euro 2016 final with a goal and an assist as the game ended 2-0 in favour of Portugal. Ronaldo's towering header from a superbly whipped cross from left flank was magical as well as historical, as he joined Michel Platini as the all-time top scorer of Euros. Portugal were not only the better team on the night, they were the much better "attacking" team.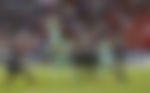 It was France versus Portugal in the final at Stade de France. A French team full of superstars like Pogba, Griezmann and Payet against a team heavily relied on the brilliance of one man. It was always going to be one-sided. France dominated Portugal in the first few minutes and it looked like Fernando Santos' men ran out of 'Luck' when their captain, and possibly their biggest match-winner, Cristiano Ronaldo was carried off in tears very early in the first half. Last time a Ronaldo was wounded at Stade de France, the French team were victorious. Everyone thought that history would repeat itself. But Portugal were determined to bring glory to a nation that has always been considered as under-achievers.
The midfield with William Carvalho in the middle, provided cover to the resolute defence of Jose Fonte & Pepe and Nani played as a sole striker. Portugal's tactics were clear, they sort of challenged France to come at them & beat them. It was not the night of either Griezmann, Payet or Pogba as they lacked that flair in their attack which got them this far in the tournament. Meanwhile, Portugal were dependent on a set-piece or a piece of brilliance from somewhere, which eventually came from an unlikely source in Eder. The Swansea-reject stunned the entire Stade de France (including a huge pocket of Portuguese) when he netted a winner in 109th minute & smashed Portugal onto the verge of glory.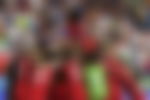 ADVERTISEMENT
Article continues below this ad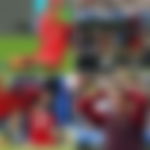 Cristiano Ronaldo's tears of Despair turned into tears of joy. "Portugal is not all about me", said Cristiano Ronaldo before the final & certainly his team proved just that. They stuck as a unit & with determination, resilience and passion they overcame a French side who couldn't make the most of their chances. How does that make them unworthy Champions? They outplayed every opponent they faced in the knockouts. The stubborn Portuguese defence conceded just a single goal in 4 knockout games. They weren't the most beautiful team to watch but they were effective in their own ways. Fernando Santos' defensive master class worked out perfectly in the final when it mattered the most. He won the European championship title with a mediocre team, which is something to be admired, not criticised. They were definitely worthy of their first major International trophy.
And Whether you think they were worthy winners or not, one thing is for sure that 10.5 million Portuguese wouldn't care either way!
ADVERTISEMENT
Article continues below this ad