Premier League Clubs Learn their Fate for the UEFA Champions League 2019/20
Published 08/30/2019, 8:46 AM EDT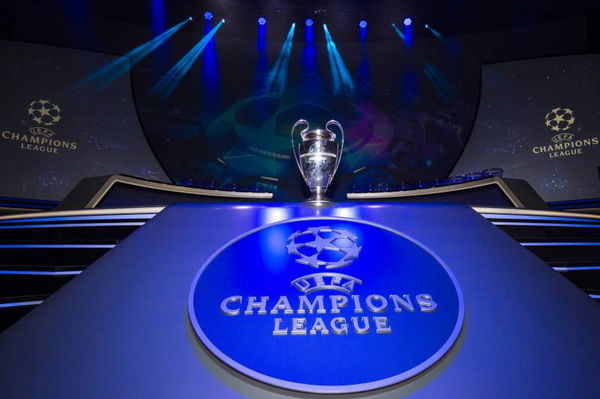 UEFA, on Thursday, drew each of the 32 teams participating in the Champions League 2019/20 in their respective group.
ADVERTISEMENT
Article continues below this ad
The ceremony was held in Monaco where the following awards were also presented-  UEFA Men's Player of the Year, UEFA Women's Player of the Year and goalkeeper, defender, midfielder and forward of the 2018-19 UCL season.
Each team for every group was picked from the following four pots-
ADVERTISEMENT
Article continues below this ad
POT 1: Liverpool, Chelsea, Barcelona, Manchester City, Juventus, Bayern Munich, Paris Saint-Germain, Zenit St Petersburg
POT 2: Real Madrid, Atletico Madrid, Borussia Dortmund, Napoli, Shakhtar Donetsk, Tottenham Hotspur, Ajax, Benfica
POT 3: Lyon, Bayer Leverkusen, FC Salzburg, Olympiakos, Club Brugge, Valencia, Inter Milan, Dinamo Zagreb
POT 4: Lokomotiv Moscow, Genk, Galatasaray, RB Leipzig, Slavia Prague, Red Star Belgrade, Atalanta, Lille
One team from each pot were drawn into a group, making eight groups of four clubs.
Current champions Liverpool were drawn with Italian side Napoli, along with Genk and Salzburg.
"Napoli are obviously a very experienced side and their coach Carlo Ancelotti has won the competition," Liverpool manager Jurgen Klopp said. "I will need now to have another, closer look at Genk and Salzburg, but I already know they are very young, very exciting and very fresh, so it will be interesting, 100%."
Liverpool and Napoli are in the same group for the second consecutive year. Last year, Liverpool lost to Napoli in Naples, and won a nervy fixture at Anfield to just make it through to the round of 16, before eventually winning the tournament.
Another pair that will meet once again this year will be the English champions Manchester City and Shaktar Donetsk. In fact this is the third time in a row that the two teams would meet in the group stage of the coveted competition.
"Zagreb and Atalanta are new opponents for us, but both teams play really good football and I think you will see some great games in this group," City director of football Txiki Begiristain said.
The runners from the last season are drawn with German champions Bayern Munich. Spurs star forward Son Heung-min said they must "remember and learn from" the campaign. "Bayern will be special because they are one of the biggest teams in Europe, you're always excited to play in this competition against these teams," he said.
Meanwhile the other Premier League club in the competition this year, and the Europa League champions Chelsea will begin their Champions League journey in company of the last year's breakout side and the Dutch champions Ajax, along with the Spanish club Valencia and French runners-up Lille.
Groups for UEFA Champions League 2019/20
Group A: Paris St-Germain, Real Madrid, Club Bruges, Galatasaray
Group B: Bayern Munich, Tottenham, Olympiakos, Red Star Belgrade
Group C: Manchester City, Shakhtar Donetsk, Dinamo Zagreb, Atalanta
Group D: Juventus, Atletico Madrid, Bayer Leverkusen, Lokomotiv Moscow
Group E: Liverpool, Napoli, Salzburg, Genk
Group F: Barcelona, Borussia Dortmund, Inter Milan, Slavia Prague
Group G: Zenit St Petersburg, Benfica, Lyon, RB Leipzig
Group H: Chelsea, Ajax, Valencia, Lille
When will the matches be played?
Matchday 1: Sep. 17-18
ADVERTISEMENT
Article continues below this ad
Matchday 2: Oct. 1-2
Matchday 3: Oct. 22-23
Matchday 4: Nov. 5-6
ADVERTISEMENT
Article continues below this ad
Matchday 5: Nov. 26-27
Matchday 6: Dec. 10-11