Rafa Benitez Reveals Liverpool Fans Were Accepting of Him Joining Merseyside Rivals Everton
Published 07/15/2021, 3:03 PM EDT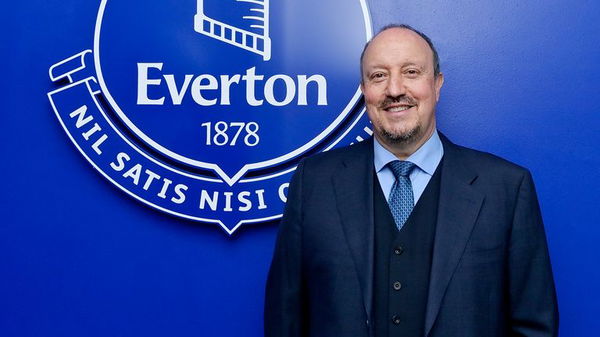 Liverpool and Everton share one of the fiercest rivalries in all of football. The two football clubs based out of Merseyside have almost never had a good relationship, and hence transfers between the two clubs are rare. However, manager Rafa Benitez didn't face many issues.
ADVERTISEMENT
Article continues below this ad
The Spanish football manager recently joined Everton as the manager after Carlo Ancelotti left the club to join Real Madrid. This caused some controversy in the city of Liverpool as Benitez was the manager of the club for 6 years since 2004.
Talking about the several threats he received from some fans, Benitez revealed that he was positive about the future. An excerpt of the interview was posted on Instagram by HaytersTV to their account. Benitez revealed that fans of both the clubs were quite supportive of him.
ADVERTISEMENT
Article continues below this ad
"The Evertonians around my place are quite happy and very supportive. Even the Liverpudlians accepted it was an opportunity for me to come back to the Premier League to compete for something. So, (it) was quite good," Benitez revealed.
He also talked about the threats and the banners which warned him to stay away from the club and he remained unbothered.
"Talking about the banners, we can talk about one, two people- you never know. I think is better to think positively and how a lot of people were encouraging me to do well," he concluded.
Rafa Benitez and his long and celebrated career as a manager
The Spaniard got his first start as a manager at Real Madrid as he managed their B-team for 2 years. He then managed small teams for 6 years until he got his big break at Valencia. Additionally, Benitez won them their first La Liga title in 31 years.
ADVERTISEMENT
Article continues below this ad
He soon moved to Liverpool and immediately transformed the side. It was in 2005 that he produced the greatest tactical masterclass of his career.
ADVERTISEMENT
Article continues below this ad
Liverpool came from 3-0 down at halftime to win the Champions League against AC Milan. It is still regarded as one of the biggest wins of his career.