Prince Ali : Don't delay FIFA Elections
Published 10/14/2015, 4:17 AM EDT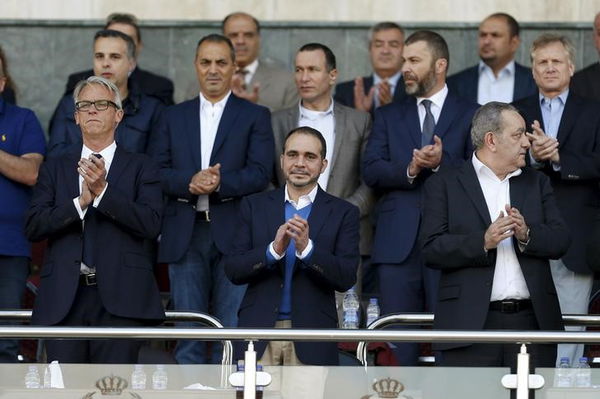 ---
---
REUTERS – FIFA presidential candidate Prince Ali bin Al Hussein of Jordan has warned that delaying the Feb. 26 elections would further harm the credibility of world soccer's crisis-hit governing body.
ADVERTISEMENT
Article continues below this ad
Ali's chances of winning the vote improved last week when rival candidate Michel Platini, the UEFA president, was suspended for 90 days by FIFA's ethics committee along with current FIFA boss Sepp Blatter, pending a full investigation.
In the latest chapter of a corruption crisis, both have denied wrongdoing and announced they will appeal, prompting two sources to tell Reuters that FIFA was considering delaying the election.
ADVERTISEMENT
Article continues below this ad
Another candidate, South Korea's Chung Mong-joon, was banned for six years by the FIFA ethics committee last week, but Ali said the election date should not be changed. Chung has said he will appeal his ban to the Court of Arbitration for Sport (CAS), sport's highest tribunal.
"With FIFA's crisis deepening, the organisation needs to move beyond interim leadership and elect an accountable president," Ali said in a statement on Wednesday. "Delaying the scheduled election would only postpone needed change and create further instability. It would tell the world that lessons haven't been learned, that the same backroom deals that have discredited FIFA in the first place continue."
Ali was beaten by Blatter in a presidential election in May.
He is one of a number of candidates who have said they would like to stand in the race to succeed Blatter, who is in his fifth term but who has announced he would step down amid the deepening crisis.
Former Brazil international Zico and former Nigeria international Segun Odegbami have both indicated they will run, but have struggled to make headway.
Nominations to replace Blatter need to be submitted by Oct. 26 and prospective candidates need to pass an integrity check based on FIFA's ethics code.
Platini had been favourite to succeed the Swiss before his suspension last week, but the former French captain has yet to pass the integrity check.
ADVERTISEMENT
Article continues below this ad
A change in the date of the vote could see the entire election timetable change – providing potentially more opportunity for Platini or any other candidates who might want to enter the race once the ethics situation is clearer.
Ali warned the FIFA executive committee, which is due to hold a crisis meeting next Tuesday, not to alter agreed plans on a Feb. 26 election.
"Members of the FIFA Executive Committee (EXCO) should remember that football associations, players, coaches and fans the world over are watching," he said. "The EXCO should not interfere with an ongoing process that was put in place by the ad hoc electoral committee.
ADVERTISEMENT
Article continues below this ad
"The election date of Feb. 26 was set three months ago with a clear procedure that meets all of FIFA's statutory requirements. Candidates have had plenty of time to declare and still do. The rules should not be changed after the game has started," Ali added.
(Reporting by Patrick Johnston in Singapore; Editing by Peter Rutherford and Ian Geoghegan)