A hundred is hard to come by, even in book cricket, let alone at the first-class level. Some of the greatest batsmen of all time have struggled to get into a habit of scoring centuries in top-flight cricket. Prithvi Shaw seems to be belonging to the rare breed of those who craft their way to a hundred like a piece of cake.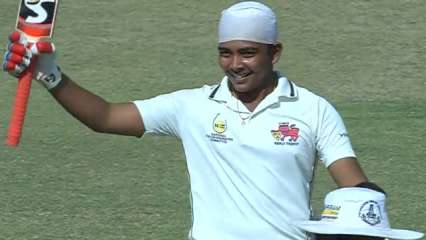 On Wednesday, the 17-year-old caressed his way to 105 while opening Mumbai's innings against Odisha in a Ranji Trophy Group C match at the KIIT stadium. It was his fourth first-class hundred in five games. He marked his debut with a hundred against Tamil Nadu in last season's Ranji semifinal at Rajkot in January.
The youngster thus joined the elite club of Rusi Modi (Mumbai), Sunil Gavaskar (Mumbai), Rahul Dravid (Karnataka), Amol Muzumdar (Mumbai) and Aditya Shrivastava (Madhya Pradesh) of batsmen who have notched up three centuries in their first four Ranji games.
His assured presence at the crease is so magnificent that it looked like a different pitch altogether while he bats. The ball started talking on a greenish pitch after his dismissal. The Mumbai batsmen struggled to cope with it, just like they had found the going tough after Shaw's flawless 123 against Tamil Nadu in Mumbai last week.
On a conversation with Prithvi Shaw:
His confidence reflected even in the interaction with the media after the game where he had no hesitation in admitting he didn't find any Odisha bowler threatening. "It wasn't too difficult to face anyone but all of them were bowling a good line and length, so it was challenging to play shots. There were a few patches when runs weren't coming but we were trying to be patient till we got two-three boundaries in an over, so we were taking time," Shaw said.
During his chanceless 105, Shaw batted with India Test vice-captain Ajinkya Rahane for the first time. He didn't get overawed with Rahane's presence, in fact dominating the 136-run partnership for the second wicket. While Shaw scored 99, Rahane grounded out 34 runs during their association.
"It was my first experience of batting together with Ajinkya bhai and he helped me a lot. All he told me was that we'll try and build a partnership and stay positive. Even though there were a few dot balls, we had expected it since they were hitting a good length. It was a wonderful experience to bat with him," he said.
For the second time in as many weeks, Shaw couldn't convert a marvellous hundred into a big knock. Shaw's untimely dismissal was followed up with yet another mini-collapse. And the youngster realized the need for him to keep going after a hundred.
"When you score a century for Mumbai in Ranji Trophy, every hundred counts. I could have dug deeper and taken the team forward. Individually I am not satisfied. I am disappointed that I could not carry on and put the team in a stronger position," Shaw said.
Prithvi Shaw at his purple patch:
Shaw has been in the prime form of late. He scored a century in his debut Duleep Trophy match for India Red in September. He carried the momentum to score 66 for Board President's XI in the warm-up fixture. This game was against New Zealand XI at Brabourne Stadium on October 19.
According to media reports, he has already placed his name in the record-breaking list. He is now the only Indian besides Sachin Tendulkar having scored five first-class centuries before the age of 18.