Proper agronomy a final test for Rio Games course
Published 11/27/2015, 2:20 AM EST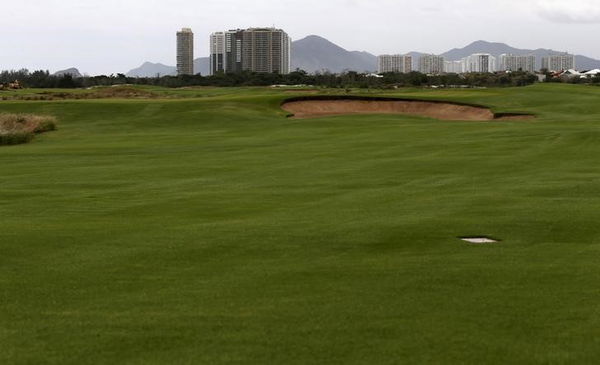 ---
---
By Mark Lamport-Stokes
ADVERTISEMENT
Article continues below this ad
(Reuters) – With the Olympic golf course for the 2016 Rio Games now constructed, the only concern ahead is whether the agronomy plan will be properly executed, International Golf Federation vice-president Ty Votaw told Reuters.
The Reserva de Marapendi layout, controversially built in an environmental reserve, was taken over at the weekend by the Brazilian Golf Confederation which will oversee ongoing maintenance before the Summer Games get underway in August.
ADVERTISEMENT
Article continues below this ad
"The biggest issue we have right now is making sure that there is a disciplined approach in executing the agronomy plan," Votaw told Reuters by telephone.
"We want the golf course to be brought into a condition that is at a level where golfers of this skill set can be satisfied in playing the golf course.
"We're gratified that construction is complete, we're gratified the golf course is completely grassed … but this is a living, breathing venue that continues to need tender loving care and attention beyond just having grass that is green."
Golf will make its first appearance at the Olympics since 1904 after being voted back in, but the Reserva de Marapendi course has been snagged with problems over the past few years.
The Gil Hanse-designed layout was originally scheduled to be finished by 2014 to give organisers two years to iron out kinks but construction was held up for several months because of legal wrangling over land ownership and environmental issues.
PROBLEMS FINALLY RESOLVED
However, those problems were all resolved and construction of the course was finally completed three months ago, ensuring that the Brazilian Golf Confederation could then assume control.
"Next June-July is when Rio 2016 (organisers) will take over as the eventual operator and will prepare the venue for the Games in terms of the infrastructure, bleachers and everything else," said Votaw.
"There are still a number of things to be finished but those are on the perimeter of the golf course — service roads and other types of infrastructure. The golf course itself was completed in August.
"We had a very good first grow-in season … and now we are approaching the second grow-in season, a second spring and summer in Brazil. We just need to make sure all the resources and elements of the agronomy plan are executed upon."
Votaw said that a test event, involving top professionals, would be held in March to allow officials to evaluate the course and test the scoring system, transportation routes and other logistics.
"It's tentatively set for March 8," he said. "We are trying to get up to four top male players and up to four top female players to do a one-day exhibition and get their feedback on the golf course.
"We will then use that as an opportunity to see what elements of the course from a conditioning perspective need to be improved."
The course in the Baja area of Rio, which features natural vegetation, heavy bunkering, a lagoon and sandy, rough ground lining wide fairways, will host two 60-player tournaments with the women's event following the men's at the 2016 Olympics.
"It is a links-style golf course in many respects," said Votaw. "It is very reminiscent of the famous sand belt courses in Australia.
ADVERTISEMENT
Article continues below this ad
"Wind will certainly play a factor in how certain holes are played. The course was designed with that in mind, to have the prevailing wind play a part.
"There is also a lot more elevation than is apparent for a beachside venue … which adds to the playability and the challenge of the golf course."
Sixty players will compete over 72 holes of strokeplay in both the men's and women's events in Rio. Golfers in the top 15 of the world rankings will automatically be eligible, although no more than four players from any one country can take part.
ADVERTISEMENT
Article continues below this ad
Officials will also make space for at least one male and one female player from Brazil, and are committed to having at least one golfer from Africa, the Americas, Asia, Europe and Oceania.
(Reporting by Mark Lamport-Stokes in Los Angeles; Editing by Frank Pingue)