PS5 vs Xbox Series X/S: Comparing Immortals Fenyx Rising's Performance on the Latest Consoles
Published 12/04/2020, 2:15 AM EST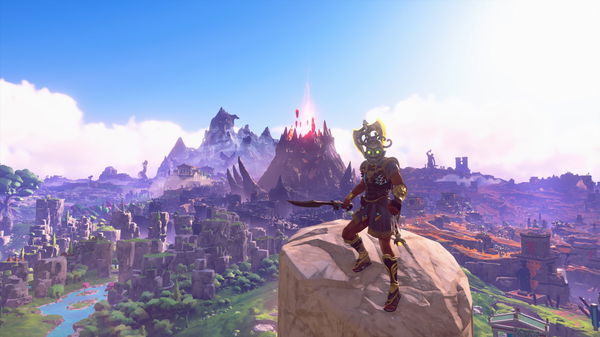 ---
---
Immortals Fenyx Rising, the action-adventure title from Ubisoft, released yesterday across all platforms. Naturally, the release has resulted in the comparison between the gameplay on the PS5, the Xbox Series X, and the Series S consoles.
ADVERTISEMENT
Article continues below this ad
Further reading: Upgrade to PS5 Versions of AC: Valhalla and Watch Dogs: Legions Not Available for UK Users; Ubisoft Addresses Issue
ADVERTISEMENT
Article continues below this ad
The gameplay follows the story of the stranded Greek soldier Fenyx, who has to rescue the Greek gods from Typhon, a serpentine giant who seeks revenge on the gods after they banished him. From what we have seen of the gameplay so far, looks like Ubisoft has delivered yet another banger. But how well are the current-gen consoles handling the game?
Comparing between the PS5, Xbox Series S, and Series X with Immortals Fenyx Rising as the reference
ADVERTISEMENT
Article continues below this ad
If we are talking about visuals, we know that all the current-gen consoles feature a similar dynamic rendering system. As far as visual clarity goes, we have to say that there is little to no difference between the PlayStation 5, Xbox Series X, or the Series S.
However, if we take the framerates into consideration, it looks like the Xbox Series X has a slight edge over the others in performance mode (i.e. on lower settings). On the other hand, if compare draw distances, the PlayStation 5 beats the others both in performance as well as quality mode.
Although the PS5 features hardware that is almost similar to that of Series X in terms of power, there are certain details that the latter seems to render better in this game. For example, shadows. The shadows on the Series S and the PlayStation 5 overall lack clarity. On the other hand, the Series X renders sharp and distinct shadows.
ADVERTISEMENT
Article continues below this ad
Then again, the overall resolution seems better on the PlayStation 5. But after considering all the visual aspects of the game, it seems that all the consoles almost at par with one another. Even the lower-tier Series S console seems to have caught up with the others in terms of visual performance in Immortals Fenyx Rising.